Permissible Exposure Limits for Cotton Dust for Different Work Areas:
Table: 2
| | |
| --- | --- |
| Department | PEL (Micrograms per cubic meter) |
| Opening | 200 |
| Picking | 200 |
| Carding | 200 |
| Combing | 200 |
| Roving | 200 |
| Spinning | 200 |
| Winding | 200 |
| Warping | 200 |
| Slashing | 750 |
| Weaving and Knitting | 750 |
| Waste house | 750 |
Medical Monitoring:
Medical examinations are to be provided to prospective employees prior to their initial assignment. As a minimum, the examinations should include:
A medical history to identify any existing health problems or diseases that may affect breathing.

A standardized respiratory questionnaire inquiring about such concerns as cough, chest tightness and smoking history.

A pulmonary function (breathing) test including the forced vital capacity (FVC), the amount of air one can force out after taking a deep breath and forced expiratory volume in 1 second (FEV1), the amount of air forced out during the first second of expiration.
Environmental Exposure monitoring:
S

ampling of the workplace must be done at least every six months to determine the amount of cotton dust in the environment.

Measurements must be representative of all employees in the workplace.

Sampling will be done in all work areas and on each shift.

Sampling is done for a period equal to at least three-quarters of the shift.

While sampling is being done, other information is collected that may pertain to the generation of cotton dust. The percent of cotton fiber in the mix; the grade of the cotton and where it was grown; types of yarn being run; and the number and types of machines operating in each area may all affect the amount of cotton dust in the workplace.
Vertical Elutriator:
It is used to monitor employee exposure to cotton dust in the workplace. Airs is drawn into the vertical elutriator at a specified speed, and particles of 15 microns or smaller are collected on a filter. The particles collected are measured to determine the amount of respirable dust (dust that can get into 4 the lungs) there is in the work area. It is important to realize that other dusts, such as starch or oil mist are also collected
on the filter and may contribute to the cotton dust levels.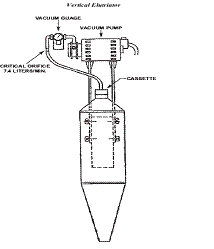 Fig 2 Vertical Elutriator