Understanding the performance in the US market is of crucial importance for Indonesia to secure gains in world markets.
The share of Indonesian clothing products in the US import market has continued to expand since 2004 in value and volume terms (Figures 2 & 3). These gains in market share in clothing are explained by:

Availability of textile and sewing machinery at competitive prices;

Domestic capacity to produce yarns and fabrics at competitive prices responding to the competition from imports of yarns and fabrics from low-cost suppliers within the region;

Shifting product mix into higher value products such as womens intimate wear, blouses and slacks, which means Indonesian products do not have to compete directly with Chinese products that are aimed at the low-end of the market;

Being able to expand shipments in items that China faces restrictions;

Allowing clothing exporters to import fabrics and accessories that are exempt from duty and VAT for firms in bonded and other designated zones;

Shifting production to locations in Central and East Java with lower labor costs than in West Java;

Improvements in telecommunications and information technologies that enable firms to respond rapidly to buyers orders and to trends in consumer markets. This has also allowed Indonesian firms to attract outward processing arrangements from garment companies in Malaysia and Singapore.
Indonesia faces several threats that could make it lose its market access gains:

The phasing out of US and EU restrictions on China will lead to intensive competition and may reverse gains in unit prices;

Some otherwise uncompetitive suppliers may benefit from duty-free access to the US market with new free trade agreements;

The appreciation of the rupiah relative to the dollar and other currencies could undermine competitiveness;

Poor infrastructure, port and customs procedures, including high incidence of illicit payments;

Indonesia

s non-tariff measures undermine the ability of firms to improve productivity through development of production networks.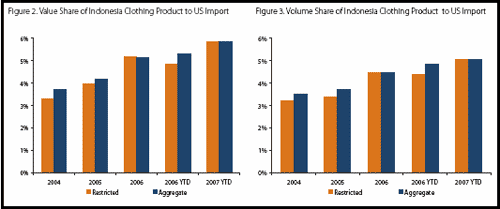 The Road Ahead: Regional Integration in Textiles and Apparel
Indonesia can prepare itself for future competition by unilaterally adopting reforms. It can also champion regional integration within Asia through trade facilitation and the removal of remaining tariff and non-tariff measures which inhibit ASEAN integration in textiles and apparel, particularly through outward-processing arrangements (OPA). The development of Asian-wide production networks will go a long way to helping Asian suppliers, including in Indonesia, to secure market access gains in major world markets.