The analysis below of Work Study department is based on a survey of ten factories and 300 people, commissioned by the German Technical Cooperation (GTZ) in association with Okhla Garment and Textile Cluster (OGTC) to analyze current systems and advise ways to improve overall productivity. The survey was done in two parts, the first analyzing the factory and the second evaluating the personnel.
A comprehensive checklist was developed which covered every department and each point on the checklist was awarded a value of 1 to 5 points, 5 being considered an International benchmark. The points awarded were added and a percentage score was calculated. Priorities for improvement for each department were established.
Work Study Department
In today's environment the need to improve productivity is essential. The Indian garment manufacturers must realize the importance of using scientific ways to analyse how best garments can be made and how manufacturing procedures can be improved, workstudy is one of the most important tools that can be used for this purpose. Workstudy is the most important tool for controlling production and improving productivity. These departments are not part of expenses but a part of investments.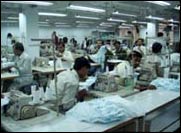 The introduction of workstudy techniques into the industry is relatively new, there is a considerable shortage of good industrial engineers and the need for accelerated training in the techniques is important. Most companies do not have IE / workstudy departments and are losing a huge potential for improvement. They have no means of measuring their performance and are unaware of their competitive status.
Seven of the ten factories visited do not know their performance levels, and although the labour portion of the cost is around 25% there are great opportunities for improved profitability through improved practices and better methods. It is important to note that all of the major players in the industry consider workstudy as a vital part of their operation. Garment factories will not survive in the future without well organized measurement techniques; they must know their performance levels and constantly work to improve them.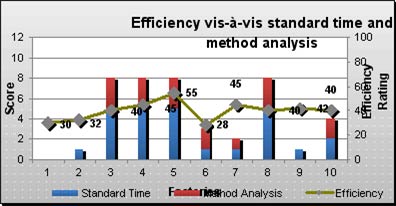 Standard Time and Target Setting
Many companies do not use standard time systems; target setting is based on guesswork and experience. Establishment of Standard times and the development of the best method to manufacture is vitally important to improve productivity. Every company that wishes to compete in the future must realize this. This chart clearly illustrates the benefits to factory efficiency if standard times and well developed methods are used.