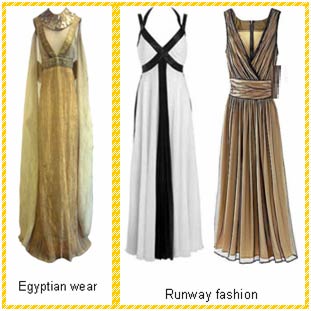 The black kohl eyeliner used by ancient Egyptians to darken and highlight their eyes, are showcased today by both male and female models in the ramp shows. Models are seen strolling down the runways of prominent international fashion shows displaying trendy garments designed with an inspiration of elegant Egyptian clothing. Pleating and draping was a popular style followed by Egyptians. The recent Balenciaga's 2009 Spring & Summer collection displayed outfits with pleating wrapping the entire body and covering the arms in the same way as Egyptian clothing. The 'Fashion King', Paul Poiret, designed his collections with Egyptian influence for this show during August 2007 so as to combine the culture and outfits of that country.
The ancient attire of straight fitting with shoulder straps that was tied behind the neck of shoulders is now one of the most popular silhouettes in the recent fashion. Egyptian tunic style dresses and tops with belting in the waist are now being sought after by most women. High waistlines that were popular in Egyptian times are seen in fashion currently through the revival of baby doll dresses. Lightweight linen clothes worn during ancient times are followed even today. In the current day's trend, many Egyptian motives are used. The hieroglyphics (ancient Egyptian letters), sphinxes, lotus flowers and scarab (a beetle associated with Egyptian god Kepera) are seen in dresses, and other fashion related accessories also. Egyptian style is adopted more strongly in US and in Europe.
Egyptian influence in costumes is seen in the garment styles and also in the embroideries that adorned the garments. Its influence in fashion exists quite predominantly. While the fashion of ancient Egypt is thousands of years old, modern day fashion is much inspired by its ancient clothing styles. Modern day fashions have taken a twist on the ancient clothing styles of Egypt, and will undoubtedly continue in the years to come.
References: