Embossing is a technique in which images and patterns are created on the surface of a product through the application of heat and pressure. Embossing is a natural and elegant process which changes the nature of the material on which it is done. Also known as Blind Printing, and Relief Printing, it is the creative impression of a design, decoration, or pattern on any surface. During the process of embossing, the surface of the embossed material raises adding a new dimension to the object. Embossing can be done on various materials like paper, metals, textiles etc.
Textile Embossing: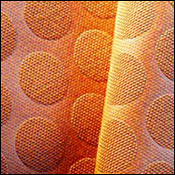 Any fashion savvy person would like to wear outfits with three dimensional images or designs. Textile embossing is generally done on smooth surfaces. This is done by pressing the fabric under high pressure, and at high temperature, in a special backing creating a three dimensional effect giving a unique look to the garment.
This is different from the regular engraving or printing in which plates are pressed against the surface to create an imprint. In embossing the pressing raises the surfaces adding a unique and appealing effect to the fabric. Bleached, dyed, or printed fabrics singed with a preliminary finish and chemically unmodified fabric is used for embossing. Working pressure depends on the quality of the cloth, the embossing design, and the different pressing areas of the design. This is durable, with an average life of 50-60 washings.
Embossing in textiles is mainly used in non wovens such as napkins, diapers, tissue papers etc. Apart from this it is also used in apparels like T-shirts which gives a very trendy look to the outfit. Additional effects on embossing can be done by decorating the embossed surface with embroidery or screen printing.
Types of Embossing:

Blind Emboss:

in which the embossed image and the fabric surface are the same.

Tint Emboss:

Here a pastel foil or pearl is used. This is much in demand currently.

Single Level Emboss:

where the image area is raised to one flat level.

Multi Level Emboss:

in which the embossed image is raised to different levels to give a depth to the embossing.

Printed Emboss:

where the embossed part registers with a printed image.

Registered Emboss:

where the printed image is embossed to give a raised look.

Glazing:

This is a polished emboss used on dark colored surface. More heat and pressure is applied during embossing which give a shine to the fabric surface. This method is most commonly used for contrasting designs.
Industry Applications: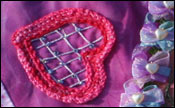 Embossing has its utmost applications in advertising, and marketing industry, where it is widely used for making promotional materials. In home textiles, it is used in decorating curtains, drapes, bed spreads, cushion covers, table mats and many more. In fashion segment embossing finds way in embellishing T-shirts, caps, and casual wears. Logos are pressed in the apparel with embossing techniques. It can be used on fleece, leather, denim, bags, and appliqus.
Good quality embossing changes the look of a fabric, and gives a breath taking appearance. It provides a fabulous depth and texture to the outfit. With a subtle and sophisticated appearance, embossing is an innovative technique for creating fashionable garments.
References:
"Embossing: Decorative Finish for Textiles", (By: Mr. Deepak Jadhav) Textile Excellence, Aug 1-15, 2009