Technology of Denim Production: Part-I (Yarn Manufacturing Techniques for Denim)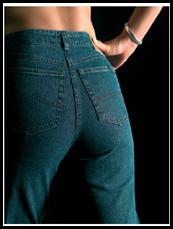 The term "Denim" has developed from the city of Nimes in France denim was produced for the first time. In the nineteenth century heavy cotton fabrics were produced in the Rhone Valley region of France. These fabrics were known as tissue de Nimes and Blue de Genes. The term denim and jeans derive from these designations.
The classical denim is a heavy fabric made from 100% cotton and woven from coarse indigo dyed warp and grey undyed weft yarn. The traditional denim is hard-wearing, high density fabrics with a high mass per unit area and a 3/1 or 2/1- twill weave construction.
Denim is available in attractive indigo blue shades and is made for a variety of applications and in a wide range of qualities and shades. Classical denim is made from 100% cotton dyed with Indigo blue shades. Besides classic indigo blue, denim is also dyed in other fashion shades and colors, the most popular being black denim. Denim is comfortable, fashionable, affordable and durable and popular in all the age group. Denim is available in different weight ranges from 6 16 oz/sq yd which is categories as light denim 10-12 oz/sq yd., heavy denim 14-16 oz/sq. yd.


Yarn Quality
In order to produce good quality denim, the yarn quality used for denim production should be optimal. In rope and slasher dyeing machine the passage of yarn is very long. Hence it is necessary to control the lapping of yarn in the passage of yarn, otherwise bands of high and low densities will be formed in the yarn, which ultimately cause shade variation in the fabric. This leads huge loss of fabric. Therefore the TM of the yarn is to be appropriate to avoid any snarling of yarn during running through the passage. The yarn should be free of weak place, to avoid any breakages during dyeing. Long slub, thick and thin places in the yarn may leads to prominent fabric defects in the fabric, as denim is a contrast fabric made of indigo blue warp and grey weft yarn. The weft yarn hairiness should be low, otherwise high yarn hairiness and major variation in yarn hairiness shown weft bands which is a major fabric defects. Higher yarn neps may also cause serious fabric defects.
Click here to read Part-II

About the Author:
The author is Manager (TQM) at Shri Lakshmi Cotsyn Limited, UPSIDC Industrial Area, Malwan, Dist. Fatehpur, UP