Silk is stated as the queen of all fabrics as it has a delicate touch and sensation when wearing. Silk caterpillars or moths spun their cocoon and form this cocoon silk fabric is collected. Mainly four types of silk fabric are used for manufacturing and they are muga silk mulberry silk, tasar silk and eri silk. Chiffon fabric is also a variation of silk fabric. it is made in a certain weaving technique and is made with various fabrics apart from silk and those are cotton, synthetic fibers or rayon. But chiffon fabric made from silk is most smooth and rich in quality comparing with other chiffon variations.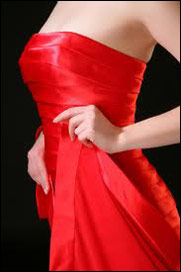 Linen is the natural fabric made from fibers derived from the strongest plant fibers- the flax. Flax fibers are obtained in two varieties- longer line fibers and shorter tow fibers. The long flax fibers are spun into yarns for making linen fabrics, most of which is used for making ultra cool clothing and high quality textile furnishings. Shorter flax fibers are made into heavier yarns that, in turn, are spun into linen fabric which is used for making such items as kitchen towels, sails, tents and canvas. Chiffon is a kind of fabric that brings about wonderful impressions when it's worn. Chiffon is made in a certain weaving technique and can be made out of many types of material such as, silk, cotton, synthetic fibers or rayon. It has a natural, see-through quality due to how it is made. The quality and the sensations of it on your skin vary enormously, depending on what material the chiffon has been made from.


Organza and chiffon are very popular fabrics this season, and their light and airy nature make them naturals for creating dramatic embellishments and effects that are also very wearable. Indulge your romantic side with a frothy chiffon gown, or treat yourself to a gown made from numerous organza pleats or one with a billowing organza skirt. Any of this season's dramatic and yet ultra-feminine gowns will help you to feel chic and gorgeous on your wedding day. Satin is between Charmeuse and Dupion. Its surface is lustrous, smooth and sheen. It has a soft and elegant look and feel. It is best for almost any gown like Ball gown, Column, Empire, Mermaid. Duchess satin is called bridal satin for its extraordinary beautiful heavy fabric with lustrous rich finish. It has a very glossy surface and its weight is medium. It is best for tailored silhouette, simple formal wedding gowns, and excellent base for embellishments.


Now the shop from where you are selecting the fabrics is very important. The stock and the quality of those materials should match your price range. It can be said from this side that in fabric Los Angels you can find every types of fabric needed for interior or upholstery. You can choose as per your choice and necessity. Interior designers can find here their heaven as this is a perfect place to find out perfect shade and fabric and texture. Apart from this apparel fabrics are also full on store.

Source: http://www.articlealley.com/
The Author is associated with www.redtexinc.com.
Image Courtesy:
dresses-for-women.com
scarves-shawls-bags.com