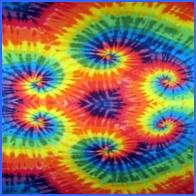 The clothing industry has a very colourful history, if you would try to trace the history of the clothing industry it would be somehow long and even now that the world is so advance clothing is still viewed of the greatest necessity in our daily life. The textile industry in India is so enriched that it has multiple facets. There are many textile surface embellishment techniques prevalent in India, of which Tie and dye has become one of the most popular in recent times. The craftsmen and rural artists are extremely talented and use a mixture of conventional and modern techniques. Today's business world demands creativity to succeed, no matter what kind of business one is into. This is because each business needs to be unique. Generally handicraft business is a good business, especially it can be distinct and distinguishable from others. Tie and Dye has now crossed the borders of its parent states Rajasthan and Gujarat and has come to be accepted as one of the contemporary garment embellishment techniques. Tie and Dye techniques give you an opportunity to easily brighten up your wardrobe and experiment with colours and fabrics on your own. One needs to have the passion for art and crafts to be able to turn tie and dye into one's own business. It is true that with creativity and experimentation one can make money selling beautiful tie and dye material. Creativity is the key in this business as this will help differ your fabric from the rest. As a starter one needs to be competitive by reducing the price tag on the fabric so as to get more customers. When they find out the quality is good, they will ask for more products and your work will speak for you, so you must try to make tie and dye fabric very beautiful and original as much as possible, you need to be competitive in your prices and quality.


Tie and Dye Techniques: As the name suggests the techniques of tie and dye involves two stages tying sections of a length of cloth and then dunking it into vats of colour. Tie and dye is a resist method of patterning fabric that is achieved by withholding dye from certain areas of the fabric, This leaves the original undyed area as the background or vice versa. This method can be used to combine lots of colour by tying and covering certain areas according to the effect desired thereafter the fabric opens out into amazing designs: dots, circles, squares, waves and stripes.

Major Centres of Tie and Dye in India and Across the World: The centres of tie and dye fabric, especially in Gujarat are Jamnagar in Saurashtra and Ahmadabad. The finest bandhani work of Rajasthan comes from Bikaner, Jaipur, Jodhpur, Barmer, Pali, Udaipur, Nathdwara. Pochampalli is also one of the three main traditional yarn dyeing centres in country. Tritik and plangi which are derived from Indonesia. Additional varaities include mudmee which originated in Thailand but is also used in Laos. Shibori, which started in Japan somewhere around the eight century.