Who would not be inspired by princess of the Arabian Nights? Sensual and bewitching, her clothing style gets the perfect amount of eye candy.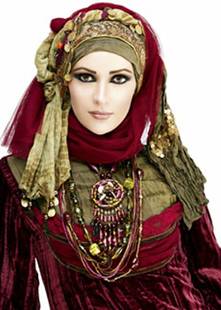 All the ancient history and culture provides a true inspiration for modern designers till today. The inspirational beauty of Arabian fashion styles are adopted all across the world even today, bringing out the princess in every woman.
Traditional Islamic clothing reflects their cultural values calling for modesty and humility, though styles and shades vary throughout. Religious customs of Arabia dictates conservative costume for both men and women. Men wear long dresses covering their whole body. Despite their social status, men wear the 'thobe'. This is believed to express equality and also goes with the hot weather of the country. Sometimes a white bisht or mishlah, which is usually long and in white, black or brown hues, trimmed in gold is also worn over the thobe.
Women wear Abaya, a long black dress with long sleeves covering their clothes. Origin of this garment dates back to 4000 years ago when Islam rose and the religion absorbed local veiling practice into its culture. With the passing trend, Abayas have become more colorful and fashionable. Arabian women wear a salwar kameez consisting of long and loose trousers worn with a long tunic.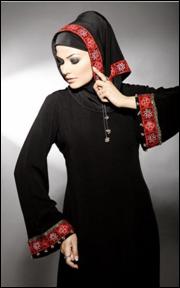 Hijab is a square or rectangular fabric folded and is used to cover the head as a scarf. Delicate, sophisticated and gorgeous, hijabs are available adorned with beautiful beadings, and shiny filaments. Jilbab is a cloak worn by Muslim women when out in public. Much similar to an abaya, jilbab is more form fitting and is available in a wide range of colors. They wear a niqab to cover the face leaving eyes uncovered. The Arabic jalabiya give a true feminine and modest feeling to the wearer.
Modern Inspiration:
Islam has set standards of modesty that reflects in their clothing styles. They are interpreted by modern fashion designers to create their dream collection. The Arabian vintage look of 20s and 30s speak of feminine elegance, and glamour without figure hugging silhouettes. Long robes wrapped around the waist, share their similarities with the iconic flapper dress of the 20s. Current trends of tunics and tops with waist belts for the perfect hourglass figure were sported by ancient Arabians. Loose dropped waist makes a perfect style for hijab's.