Cabinet Okays proposal for 49% FDI in pension & insurance firms
The Congress-led UPA government has unveiled a second wave of reforms, approving proposals allowing foreign investors to own up to 49% in insurance firms and pension funds.
But the initiative may remain still born as BJP, the principal Opposition party, signalled its reluctance to back bills raising foreign investment limits.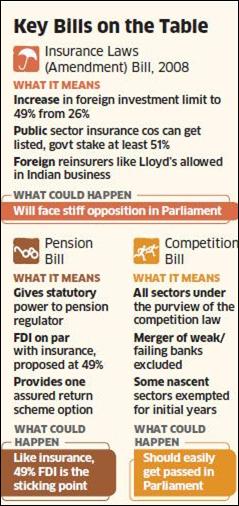 Two other less contentious economic legislation one modernising the Companies Act and another, the forward contracts bill, empowering the regulator of commodities markets may fare better in Parliament.
Addressing a press conference on Thursday evening, Finance Minister P Chidambaram said the government will reach out to the Opposition parties. "I'm optimistic that the principal Opposition party will support. We should not jump to conclusions. Legislation-making process involves discussion and negotiation. There have been instances where a government that did not have absolute majority has got bills passed," he said, underscoring the difficulty the government faces.
"BJP will expand the fine print on the two bills. It stands committed to protect the interest of pensioners," BJP Spokesman Ravi Shankar Prasad said.
The standing committee on finance headed by Yashwant Sinha, a former finance minister in the NDA government, had proposed capping FDI at 26% in insurance and pension.
The government also approved the 12th Five-Year Plan and announced measures to operationalise infrastructure debt funds after a marathon cabinet meeting that deliberated on 21 items and seemed intended to convey a sense of purpose and determination after the policy paralysis that had characterised the first three years of UPA's second term in office.
The government will need the support of the Samajwadi Party (SP) and Bahujan Samaj Party (BSP) to ensure the passage of the insurance and pension bills.