US President Donald Trump's decision to withdraw the US from the TPP agreement could prove to be useful for China as it will get access to the entire Asian market. However, Vietnam stands to lose a chunk of its market, considering that it exports 20 per cent of its products to the US, a Fibre2Fashion report.
The Trans Pacific Partnership (TPP), a trade agreement between twelve Pacific Rim countries, was signed on February 4, 2016, in Auckland, New Zealand. These 12 countries are the US, Malaysia, Japan, Vietnam, Brunei, Singapore, New Zealand, Australia, Canada, Chile, Mexico and Peru. It is awaiting approval to come into force, but due to the US withdrawal from the agreement on January 23, 2017, it cannot be ratified. If the agreement is not approved by all the countries before February 4, 2018, it will be implemented after approval by at least six states, which together have a gross domestic product (GDP) of 85 per cent of the GDP of all countries.
The Obama administration had claimed that the agreement intended to promote economic growth, retain jobs, enhance living standards, reduce poverty, ensure good governance, enhance labour and protect the environment of the member countries. The TPP negotiations began in 2005, and was signed by Brunei, Chile, New Zealand and Singapore. In 2008, Australia, Canada, Japan, Malaysia, Mexico, Peru, the US and Vietnam joined the group.
<![if !vml]>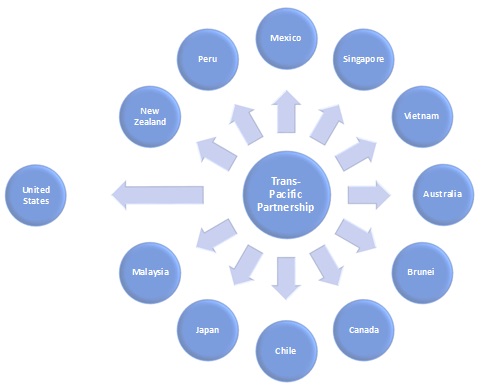 <![endif]>
TPP's future after US withdrawal
The TPP's future is uncertain after the US withdrawal, but some countries have shown interest to rework the agreement without US participation. New Zealand has planned an alternative deal without the US. Australia's trade minister, Steven Ciobo said that he has spoken to other leaders of TPP member countries to discuss ways to lock the benefits from the TPP without US participation in the partnership. However, Prime Minister of Japan, Shinzo Abe has said that the TPP without the US would be worthless.