The global diaper market for infants and the elderly is growing. This has been driven by rising standards of living in populous countries like China and India. Manufacturers are meeting the challenge with innovative technologies.
The baby diaper vertical is expected to reach US$ 70.4 billion by end-2024, up by 4.1 per cent. Growth in the adult-diaper market is outpacing that of every other paper-based household staple, due in part to an ageing population but also due to the elimination of the stigma of using such products. According to Global Market Insights' industry analysis report, the disposable incontinence product market size was over US$ 8 billion in 2015 and is expected to exceed US$ 12 billion by 2024.
Not only is the need for diapers and incontinence products increasing, consumers are demanding more comfort and performance. Manufacturers are using innovative new technologies, producing disposable diapers and underwear with softer, lighter and smoother fabrics that are constructed to fit well with high elastic functionality. Research and development in the properties of nonwoven fabrics has thrown up choices ranging from crisp to fluffy, abrasive to soothing, and tearable to extremely durable. With so many options in fabrics and the technologies to convert them, manufacturers have a lot to choose from.
Some conventional methods for fabricating elastic nonwoven materials include bonding elastic strands between layers of nonwoven fabric with adhesive when elastic strands are under tension. Once elastic strands are permitted to relax, areas of the nonwoven fabric are gathered such that the nonwoven fabric functions with elasticity. However, durability of elastic nonwoven materials made using conventional adhesive methods is less than desirable because adhesive bonds are prone to creep, which can result in loss of elasticity. Moreover, it can be overly expensive to fabricate elastic nonwoven materials with these conventional techniques. So, it became useful to provide a system for fabricating a more durable elastic nonwoven material in a more cost-effective way.
Fig. 1: Typical configuration of a 30 kHz continuous bonding module.
<![if !vml]>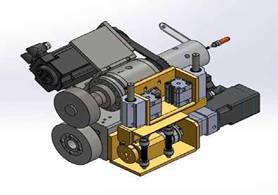 <![endif]>
Aurizon Ultrasonics offers a patented rotary ultrasonic elastic entrapment apparatus (Fig. 1) that enables manufacturers of nonwoven products to create softer, thinner, high performing elasticised fabrics. This innovative solution is changing diaper design by providing precise bonding on waistbands (Fig.2) and leg cuffs (Fig. 3) without the stiffening effect of adhesive. With the elimination of adhesive, the ultrasonic elastic entrapment process makes it possible to construct diapers using technologically advanced nonwoven fabrics that are thinner and have better absorption, allowing converters to create an elasticised fabric with improved drape, bend, crush conformability, breathability and maximum performance.