Recent years have been marked by an accelerated development of unconventional techniques in textile manufacturing. A common characteristic of those new technologies has been a partial or complete elimination of conventional operational practices like spinning, weaving, knitting, etc. One of the characteristic mark of the new product, which can't be identified by the criteria of conventional textiles, are their specific properties and end uses. Nonwoven product is one of them. A Fibre2Fashion overview of the global nonwovens market.
Nonwovens are novel, innovative, engineered fabrics produced directly from fibres and are used over an extensive variety of products and applications. There are abundant end-uses of nonwovens like in hygiene, medical, wipes, surgical fabrics, liquids and gas filtration, protective clothing, interlinings and clothing, leather like- goods and coating substrates, shoes, upholstery, floor-covers, furniture and bedding, building and roofing, structural engineering and in geosynthetics. Current life would be impossible without them.
Global scenario and key future trends
Nonwovens represent the highest growth segment in the textiles field. Over the last decade, the extent of textile fibre used as a part of nonwoven has surpassed fibre use for woven, knitted and other textile products. The growth in nonwovens is because of growing technological advancements, new product developments and rising awareness among consumers and their pace in adopting nonwoven goods. Growing hygiene and medical industries are also supporting the nonwoven market growth, particularly in the Asia-Pacific and Latin American regions. The Asia-Pacific region is expected to play a major role for the nonwovens market primarily due to emerging economies in China and India, accompanied with growing awareness among customers about the benefits of nonwoven products.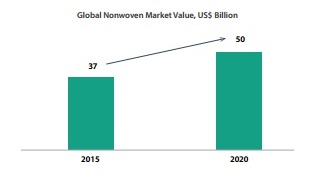 The global nonwovens fabric market was valued at $37 billion in 2015 and according to recent studies, it is anticipated to grow to around $50 billion by 2020, with the hygiene segment being a key part of the market. Worldwide use of nonwovens was more than 9 million tonnes in 2015, and this could grow to 12 million tonnes by 2020. Anticipated global growth rate is to be in the strong 6-7 per cent range.
Some of the key trends that are supporting this future growth are described below.
Asia is the biggest consumer of nonwovens
Globally, Asia is the major consumer of nonwovens in the world and it has overtaken Europe and North America in the last ten years. In 2015, this was manifest in a market share of 43 per cent for Asia, with consumption of 3.8 million tonnes. Asia will keep on growing with an estimated global market share of 47 per cent and volume of 5.6 million tonnes in 2020. China, India and Japan are the major markets within Asia; they together represent more than three-fourth of the total nonwovens consumption.