Myanmar garment factories' workers face tough conditions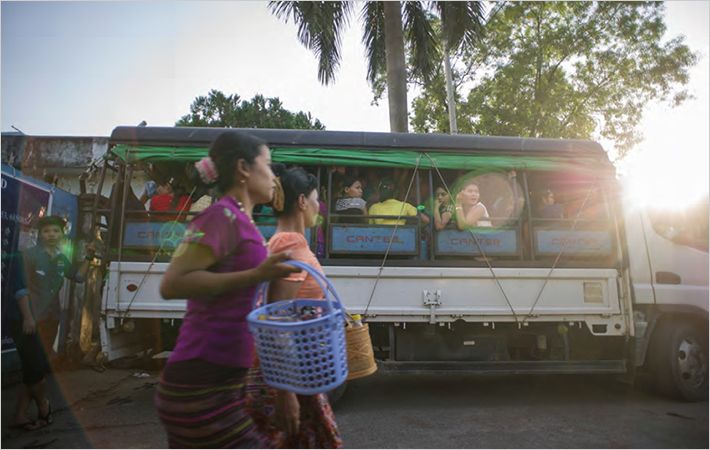 In Myanmar, the garment industry is booming thanks to an upsurge in investment by international brands, but garment workers are facing tough conditions. According to new research from Oxfam and labour rights groups in Myanmar, garment workers are working up to 11 hours a day, six days a week, but remain trapped in poverty.

Following decades of economic isolation, political reforms have seen global retail heavyweights like Gap, H&M, Primark and Adidas starting to source from Myanmar factories. With the garment industry growing quickly, companies need to act now to ensure that workers making their products can access their fundamental rights and provide a decent living for themselves and their families.

Oxfam's paper is based on survey findings across 22 factories in industrial zones in and around Yangon, places a spotlight on overwhelmingly poor working conditions. It urgently calls on international companies buying garments from Myanmar, as well as their supplier factories, to improve transparency and monitoring of the industry and address these unsafe and exploitative conditions.

This report presents the findings of research carried out by Oxfam in June and July 2015 on the wages and conditions of garment workers in Myanmar. Despite working six days a week and doing an average of 10.5 hours overtime each week, garment workers are not earning enough to adequately support themselves and their families. In September 2015 a new minimum wage ($83 a month) was introduced. While the setting of a minimum wage is an important benchmark for Myanmar, the results of this report suggest that this amount will not be enough for workers to look after themselves and their families.

In collaboration with labour groups in Myanmar – the Cooperative Committee of Trade Unions (CCTU), Action Labor Rights (ALR), 88 Generation, and Labour Rights Defenders & Promoters (LRDP) –Oxfam conducted a survey with garment workers in and around Yangon. It revealed that even though workers earn an average of $98 a month (with overtime), they are unable to cover the cost of basic needs like food, medicine and transport. Almost half of all workers surveyed (43 per cent) are trapped in debt, reporting that they borrowed money to pay for basic items. While some workers have been able to negotiate improvements with factory managers (such as access to clean drinking water and small pay increases), the survey found that often, factory managers do not listen to workers when they raise problems.

Safety was a big concern. More than one in three workers reported that they had been injured at work. Many were afraid of factory fires, explaining that building exits were often blocked or even locked.