Icebreaker's versatile new offering at The Outdoor Show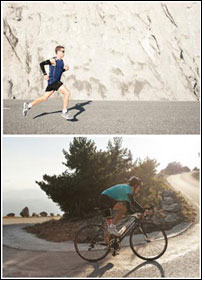 Icebreaker, the New Zealand company that pioneered the merino wool adventure apparel category, will debut a versatile new offering of men's and women's merino apparel at The Outdoor Show in Friedrichschafen, Germany, 14-17 July 2011, and the Outdoor Retailer Summer Market 2011 in Salt Late City, Utah in the United States, 4-7 August 2011.

Icebreaker GT

New for Spring/Summer 2012 are run shorts and bike jerseys, part of Icebreaker's performance range, which includes Icebreaker GT, a comprehensive collection for a broad variety of active sports – running, adventure racing, road biking, trail riding and gym work-outs.

For road runners, new Icebreaker GT garments include the Rush Tank and Rush V for women and the Ace Tank for men. The new Quest series of short-sleeve tees, short-sleeve zip tops and long-sleeve zip tops for men and women are ideal for multisport events, and the women's Dart Short and Stride Short will suit any sport.

Icebreaker has retained GT Bike, its specialist collection of styles for road bikers and mountain bikers, which has been getting rave reviews from cyclists and media around the world since its introduction in 2011. For Spring/Summer 2012, the collection uses GT150 - Icebreaker's lightest weight of fabric - to create summer-weight tops that excel in the heat.

GT Bike tops for women now feature stylish nature-inspired prints, which take a contemporary approach to bike apparel graphics.

Icebreaker GT and GT Bike give casual and competitive athletes the ability to get out of the synthetics that dominate the market and into merino technical sportswear, which resists odour, is soft and lightweight, dries fast, and keeps athletes cool and dry.

Black Sheep

Icebreaker is also launching Black Sheep, its softest, finest range of luxury merino sweaters for men and women. The collection is part of Icebreaker's Journeys range of soft, lightweight tees, sweaters, dresses and cover-ups.

Black Sheep is made from an exceptionally fine micron of merino wool, grown in New Zealand's rugged Southern Alps. The merino is knitted into a fine gauge to create a stylish collection of exclusive knitwear.

Icebreaker Product Design Director Keryn Francisco says sourcing premium merino wool was essential in creating the Black Sheep series.

"Winemakers determine the highest quality grapes and barrels to make their highly coveted reserve wine. We did the same for our Black Sheep styles," says Francisco.

"We worked with sheep stations that produce some of the finest merino in New Zealand. The resulting garments are absolutely stunning both in how they look and how they feel."

Black Sheep features four styles for men: the LS Aries Crewe, the LS Aries V, the LS Aries Cardigan and the Aries Hood. Two Black Sheep styles for women, the LS Athena V and the LS Athena Boatneck, combine lightweight luxury with contemporary elegance.