Li & Fung buys five firms for its trading & distribution networks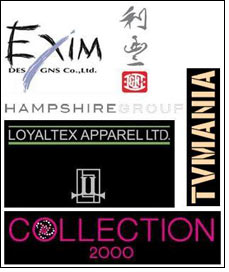 Hong Kong-based multinational, Li & Fung Limited, the multinational consumer goods export and logistics group, announced that since March 24, 2011 it has signed five deals which includes three acquisitions for the Group's Trading Network and two acquisitions for its Distribution Network. Turnover and profit before tax of the five newly acquired companies were approximately US$660 million and US$80 million respectively for last year.

The new additions to Li & Fung's Trading Network include the acquisitions of Loyaltex Apparel, Collection 2000 and Exim Designs.

Loyaltex Apparel is a sourcing and development company specialized in knits, woven/denim and sweater. This acquisition will add a new portfolio of customers including Aeropostale, that sells casual clothing to 14 to 17 year olds through over 900 stores in the United States, Canada and Puerto Rico; Sanmar, a major supplier of apparel to screen printers, embroiderers and promotional product distributors; and Alfred Dunner, the leading manufacturer of moderately priced ladies coordinated sportswear in the United States and Canada. This will further strengthen the Group's capabilities in global sourcing, as well as creating significant synergies with its existing business.

Collection 2000 is specialized in fashion color cosmetics products for the beauty industry in the UK, with a range of products available in the majority of the country's leading mass color cosmetics retailers. This acquisition is expected to further category and customer base expansion in Li & Fung's Health, Beauty, and Cosmetics (HBC) business in the UK.

Exim Designs is a Thai-based furniture trading company that specializes in ready-to-assemble, flat-pack furniture. This acquisition will help strengthen Li & Fung's capabilities in the furniture business with mass-market and traditional furniture retailers and the Group expects additional synergies to be created with its existing customers in this product category.

In addition, the Group has acquired TVMania and Hampshire Designers for its Distribution Network.

TVMania is the leading Pan-European supplier of character licensed and branded merchandize with the most comprehensive set of licenses across Europe. Its portfolio of character licenses include Hello Kitty, Mickey Mouse, Cars, Batman, Ben 10, Bakugan, Star Wars, Barbie, Pokémon, Bob the Builder, Sponge Bob, Spiderman Movies, Smurf , Dora the Explorer as well as the surf brand Gotcha. Major licensors include Sanrio, Disney, Marvel, MTV/Nickelodeon, Hit, Cartoon Network, Lucas Films and Mattel. The company's main product categories are casual, nightwear and underwear. This acquisition will help to further expand the Group's licensed apparel business alongside its private label apparel business across Europe.

Hampshire Designers is the women's division of Hampshire Group Limited in the US. The acquisition includes Designers Originals, Mercer Street Studio and Hampshire Studio and is expected to further expand the Group's women's knitwear and woven product offerings and capabilities.