Gitman & TTX to create a Lycra Pinpoint Labor of Love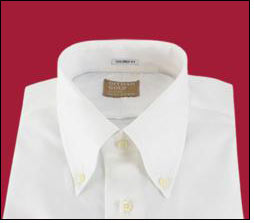 Gitman Bros. Shirt Company and TTX, a long time cloth weaver for Gitman, have collaborated to create a new pinpoint cloth containing a 3 percent Lycra content. This Lycra creates a natural stretch in the shirt, and is supremely comfortable in a totally new way. This shirt, called 200BSTR10, is available in the Gitman Instock offered in a white button down collar model. It is made in the Gitman "tailored" fit model, which is 2 inches trimmer than the classic fit.

The new TTX Pinpoint adds comfort to a classic design by incorporating a Lycra fabric blend. The newly designed shirts retain a timeless look while featuring a breathable and durable cloth blend. This combination makes the new TTX Pinpoint a perfect choice for maintaining a professional look even during the warm summer months.

John Minahan, president of Gitman says, "The Lycra stretch integrated into a classic pinpoint fabric is a great example of improving the best. Now the comfort extends to ease of movement as well as feel of cloth."

This new shirt is made to serve the dual purpose of being both a fine dress shirt, as well as a comfortable alternative to conventional, less durable designs. The all new shirt is testament to Gitman Bros. continuous ability of crafting timeless designs while also integrating modern crafting techniques.

Ken Richman, president of TTX, also commented on the development. "The forty year relationship with Gitman Shirt has always been one of creating more comfortable, more durable, and more fashion correct fabric for shirting."

Richman adds, "Real innovation in shirting for Gitman has been nuanced improvement over many years. We love the shirt created from this new cloth. "

Gitman Bros. Clothing Company is based in Ashland, Pennsylvania and has been making fine menswear for over 30 years. Gitman Bros. clothing is solely manufactured in the United States and aims to combine classic all-American style with modern techniques.

Gitman Bros.