NIKE raises FY15 revenue target to $28-30 billion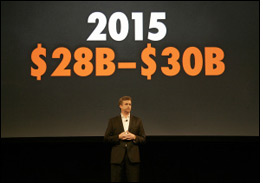 NIKE Inc provided an overview of its fiscal 2011 results and reviewed progress on key strategic initiatives to achieve sustainable, profitable long-term growth across its global portfolio of brands. During an investor meeting at its world headquarters in Beaverton, Ore., the Company increased its fiscal 2015 revenue target to a new range of $28-30 billion, up from its previous target of $27 billion announced in May 2010.

Additionally, the Company reaffirmed its goal of generating $12 billion of cumulative free cash flow from operations from fiscal 2011 through fiscal 2015. Both goals extend NIKE, Inc.'s long-term financial model of high single-digit revenue growth, mid-teens earnings per share growth and expanding returns on capital.

"Our fiscal 2011 results demonstrate that NIKE, Inc. has made substantial progress to deliver our 2015 global growth strategy and objectives," said NIKE, Inc. President and CEO Mark Parker. "Our ability to create innovative product and exciting retail destinations, while leveraging our powerful supply chain and strong balance sheet, allows us to attack the biggest opportunities to continue transforming the global marketplace."

"While the last 12 months have revealed many changes in the world, the dynamic operating environment also underscores the considerable strengths of the NIKE, Inc. portfolio," continued Parker. "At NIKE, Inc. we run a complete offense, and it's based on a core commitment to innovation. That's how we stay opportunistic, serve the athlete, reward our shareholders, and continue to lead our industry."

NIKE Brand Overview

Given strength of performance and robust growth opportunities identified for the NIKE Brand portfolio, the Company also raised its fiscal 2015 revenue target for the NIKE Brand to $24-25 billion, up from the previous target of $23 billion announced in May 2010.

"Our category offense strategy is at the core of our success. It has enhanced our ability to target and go after our biggest growth opportunities. Nearly every NIKE Brand category was up in 2011 and we're building even more momentum as we enter fiscal 2012," said NIKE Brand President Charlie Denson. "At NIKE, we are relentlessly focused on the athlete. We lead with innovation and performance product built for the world's best athletes and teams, and then we capture the imagination of the consumer by evolving, aligning and focusing our business around them."

Denson continued, "Our ability to be authentic, stay connected, and remain distinctive through innovating across all areas of our business is a definitive competitive advantage. Through our Compete-Train-Express strategy, we are dedicated to enhancing consumers' lives, inspiring them and enabling them to be better athletes."

NIKE Brand - Geographic Opportunities

The Company also updated plans for growth in the NIKE Brand geographies through fiscal 2015. In its developed geographies (North America, Western Europe and Japan), NIKE expects to generate solid growth off of a large base, reaffirming a mid single-digit average annual growth rate for the five year period from fiscal 2010 through fiscal 2015. In its developing geographies (Greater China, Central & Eastern Europe and Emerging Markets), the Company reiterated its expectation of low double-digit growth communicated in May 2010. Additionally, the Greater China geography reached $2.1 billion in revenue and was confirmed to be on track to double in size by fiscal 2015 off of its fiscal 2010 base.