Lakeland secures revolving line of credit with TD Bank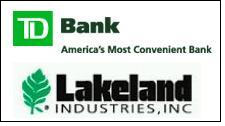 Lakeland Industries Inc announced that it has closed on a $6.5 million Secured Revolving Line of Credit with TD Bank, N.A. This line of credit along with a previously established facility with TD Bank for $23.5 million combines for a new $30 million revolving line of credit. The expanded credit provides Lakeland with a favorable increase in its terms that allows up to $6.5 million to be used to fund capital expansion in Brazil, Mexico, and Argentina, as well as the ability to refinance existing debt in Canada.

In accordance with the terms for the $6.5 million increased secured revolving line of credit, borrowings would be in the form of a 5-year term loan. Lakeland will have the option of converting such term loans to a fixed rate of interest. The interest rate on the entire revolver will be 25 basis points higher than its current pricing structure. Further, the term of the entire revolver ends June 30, 2014, providing an extension of 17 months for the previously established facility of $23.5 million, which had remaining availability of $7.3 million as of April 30, 2011.

"This new line of credit gives us improved flexibility and an enhanced capability to accelerate our growth strategy in select foreign operations," said Christopher J. Ryan, Chief Executive Officer of Lakeland Industries. "TD's extensive experiences as a lender and its banking system depth have been and will continue to be great assets for our business, particularly with this creative revolving credit facility that was designed specifically to fund Lakeland's international expansion. We are gratified that our efforts to build a strong and growing global business have been recognized by a leading international bank such as TD Bank."

"At TD Bank, we are committed to working closely with our clients to understand their business so that we can develop customized financial solutions that meet their needs," said Christopher Giamo, Regional President, Suburban New York, Long Island and Connecticut, TD Bank. "We are excited to continue to partner with Lakeland Industries, and to help this company achieve their strategic growth objectives today and for years to come."

Mr. Ryan continued, "As we have publicly disclosed and as our financial results attest, Lakeland has been experiencing rapid growth at its international operations. Many of our foreign operations continue to report high levels of bidding activity. We believe this reflects the early stages of what will become a long term period of growth in BRIC (Brazil, Russia, India and China) and nearby countries solely for complying with global environmental and safety standards. This growth is incremental to what may be associated with requirements for traditional national economic growth in these countries.

"However, our manufacturing facilities in Brazil and Mexico may be nearing capacity constraints toward the end of this year. The expanded credit facility is a preemptive initiative to provide us with the funding for continued investments in property and equipment, along with working capital, so that we may keep pace with our foreign in-country demand as well as with the requirements for customers in all of the international markets we serve."