Fila Korea announces licensing structure in EMEA region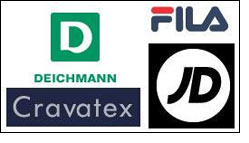 In the first significant move since repurchasing the master license for its brand in Europe in mid January, Fila Luxembourg S.a.r.l. announced that, it has entered into multiple long-term licensing agreements for the region with JD Sports Fashion plc for the United Kingdom, Ireland and the Channel Islands, Dosenbach/Ochsner for Europe, SportMaster for Russia and Cravatex for the Middle East (other than Israel), Northern Africa and India.

After re-acquiring the master license, Fila Korea embarked on a restructuring mission to transform the strategy and structure of the business in order to resolve the distribution channel confusion that has characterized the Fila brand in EMEA for the past few years. The ultimate goal of the new licensing structure is to elevate the brand and streamline the flow and logistics of the business in the region. The new strategy in EMEA is centered on a direct to retail structure as well as developing a complementary wholesale business which will include distributors and sub-licensees. The long term license agreements include the rights to manufacture and sell women's, men's and children's apparel, footwear and accessories.

"We are thrilled to have the opportunity to combine our Fila brand with the successful, well-established infrastructure of our new licensee partners in the EMEA region", said Gene Yoon, Chairman of Fila Korea Ltd, the parent company of Fila Luxembourg. "Each partner has scale, performance market positioning and the ability to deliver growth in both profitability and market share, quarter after quarter. I cannot think of better broad based partners for our brand in these markets. As we celebrate the centennial of the Fila brand, we look forward to working with each partner to re-establish Fila as a premier sport lifestyle brand in the influential EMEA region."

In the United Kingdom, Ireland and the Channel Islands, Fila branded products will be available in JD's stores and on http://www.jdsports.co.uk in Fall 2011, as well as in other fascias of the JD Group and selected wholesale channels. JD has also been given the right to sell Fila branded products in its retail stores across Europe.

"The Fila brand is one of the most recognizable names in sportswear and athletic footwear and has long been known as an authentic sport brand. We are excited to share in the heritage of this storied brand through this licensing arrangement," said Peter Cowgill, Chairman of JD Sports. "This partnership allows us to advance our strategy of bringing high-quality, sport fashion brands to our consumers."

In Europe, the Dosenbach/Ochsner license encompasses Fila branded products and will be sold in Ochsner Sports/Dosenbach and its affiliate retail stores, while also actively pursuing a complementary wholesale business with strategic distribution and sub-license partners in Europe. SportMaster will pursue a similar "own store strategy" in Russia while Cravatex will focus on wholesale and retail distribution in its territory.