OutDoor Show presents developments in leisure & work clothing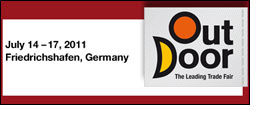 A good outdoor product can be recognized by the fact that it performs its function - and of course, that is does so dependably. For occupational clothing in particular, the demands placed on materials have risen constantly. In addition to their usual leisure and sport lines, more and more manufacturers attending the OutDoor, taking place in Friedrichshafen from the 14th to 17th of July, are developing occupational clothing lines for the military, police, forestry workers or industrial climbers.

For these men and women, no mast, building or tree is too tall. Where others give up, they keep on climbing - and they do it every day, because it is their job. Industrial climbers are active in many different fields and, like leisure climbers, place great emphasis on good materials.

"But the requirements vary widely", explains Skylotec sales representative Christoph Kühnel. Professional climbers value safety, technology and comfort, whereas in the sports field, design and weight are priorities, in addition to safety. "If you are hanging from a tree for several hours, for example, the harness must sit properly and be comfortable - otherwise everything will be sore when the workday is over", says Kühnel.

Skylotec, based in Neuwied, northwest of Frankfurt, is the market leader in harnesses, cables, karabiners, helmets and headlamps - practically all the personal protective equipment that an industrial climber needs during his workday. The company is one of the few that has moved from workwear into sportswear. The opposite is true for most manufacturers. At the OutDoor, Skylotec is presenting equipment for sport climbers in one exhibit hall, while outside in one courtyard, it is possible to try out harness systems, attached to hoists and pulleys, for industrial climbers.

Petzl from Garmisch-Partenkirchen, in the German Alps, also offers a complete assortment of personal protective gear for industrial use: helmets, safety harnesses and belts, abseiling equipment, shock absorption devices, rope clamps and head lamps - the variety of products available is huge. "Our experience has shown that the industry values ruggedness" explains Andrea Warner. Petzl meets this demand in part through new head lamps which are resistant to breakage, explosions, and corrosive chemicals. For sport climbers, who are the main focus of Petzl at the OutDoor, such details are mostly incidental.

It's a different matter where rucksacks, tents and outerwear are concerned. Tatonka, for example, has produced equipment for militaries and police around the world since 1998 under the name "Tasmanian Tiger". This includes, for example, rucksacks for soldiers with a capacity of 125 litres for longer deployments.

"We also developed a rucksack with a quick-drop system for emergencies especially for the troops" explains sales manager Heiko Tschipke. In addition to the typical colours of khaki and camouflage, the materials must meet differentrequirements than clothes intended for use in leisure."