Fine Fair launches second kidswear store 'Kair' in Bahrain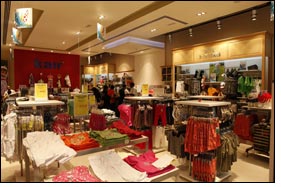 Fine Fair Group, a leading garment retail chain in the Middle East, is pleased to announce the opening of their second "Kair" children's wear showroom at Bahrain's busy City Centre on Friday, 15 July 2011. This is the second "Kair" showroom in Bahrain and the group's 21st outlet in the Middle East region.

HE Abdullah Khalaf al Dosari, Member of Parliament in Bahrain cut the ribbon to mark the opening of the latest "Kair" show room.

"Kair" children's wear store is part of Fine Fair Group, which is expanding its presence in the Middle East region and India. The first "Kair" showroom in Bahrain was opened a fortnight ago at the Seef Mall. These branches are part of the Fine Fair Group's popular children's line "Kair" international expansion in the Kingdom of Bahrain. Bahrain City Center is one of the busiest shopping malls in the Kingdom.

Located in the level - 2 of the the City Centre, "Kair" offers comfortable, stylish, eco-friendly children's clothing for boys and girls aged 0-16 years. Using only the softest, most durable, and highest quality cotton, "Kair" has quickly become popular with parents throughout the Middle East who appreciate the care, quality and price, "Kair" has offered their families since 1998. First showroom opened in Seef Mall on 30th June 2011.

Fine Fair's Managing Director, Mr. Ismayael Rawther, B Tech, MBA, PGDRM, said: "We are expanding our presence in the Middle East North Africa market. World standard designs and competitive pricing will continue to help us grow in the regional market."

Fine Fair Group will soon open new showrooms in Oman, Qatar and Lebanon. Work has been started in Muscat city Centre will open by end of October 2011. Mr. Rawther has an ambitious expansion plan of opening 100 "Kair" showrooms from the GCC to America by 2015. Over 20 showrooms are scheduled for inauguration in South India in 2011-2012, and another six showrooms will open in San Diego, New York, Chicago, Washington DC, Dallas and Orlando.

Fine Fair Group offers a unique collection of exclusive designs with a 50 member multinational design team trained in Paris, Milan, New York, Philippines and India producing 25 new designs every day.

The Group designs and manufactures its own brand "Kair" – including BABY KAIR, KAIR and KAIR TEENZ- in their state-of-the-art factories. "Kair" is a Fine Fair brand that promises quality and fair pricing for the cost and quality conscious customers across the world.

Mr.Rawther said, "We are dedicated to ensure maximum fineness of our fabrics. We pay attention to details like the raw materials ,accessories used and process involved. Cotton is creatively attended from the ginning stage until reaching the shelves of our showrooms. With the help of quality cotton and the most advanced technology available, spinning, knitting and weaving are accomplished without losing the natural feel of the cotton."

Mr.Rawther finds time to personally inspect his products thereby ensuring the high quality and fair prices that have created his company's loyal customers.