Enjoy back-to-school season with Macy's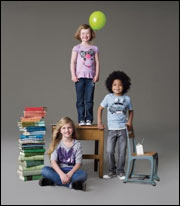 Macy's is the place for back-to-school, announcing today several exciting new initiatives headlining the retailer's annual offering of exclusive fashion brands, family-oriented activities and charitable partnerships with Reading Is Fundamental, DoSomething.org and the new online web series, Wendy. From fashionable and affordable apparel to give-back programs, Macy's is your fashion and lifestyle destination this back-to-school season.

"With great fashion, reliable value and exciting events - Macy's is once again a popular one-stop destination for kids and teens getting ready for back-to-school," said Martine Reardon, executive vice president of marketing for Macy's. "We continue to introduce new brands to keep our assortment fresh and to develop compelling store events and cause programs that will get everyone excited about heading back into the classroom."

Macy's is the shopping destination for new brands this season, with fresh fashion appealing to young men and women that want to look original, effortless and authentic, as they head back to school this fall.

MATERIAL GIRL - This back-to-school season, Material Girl is launching new product categories to add excitement to its' already extensive assortment. Today's "Material Girl" will now be able to look good from head-to-toe with feminine, flirty and bold beauty items that allow experimentation and champion self-expression. From lip gloss and nail polish, to body lotion and body mist, teens will have everything they need to make a statement as they head back to class.

CHARMED BY MAIDENFORM - Launched this June, Charmed by Maidenform is available exclusively in 460 Macy's stores nationwide. The intimate line offers the ultimate in comfort and convertibility with fashionable and playful designs for girls ages 16 - 24.

JESSICA SIMPSON JUNIOR SPORTSWEAR - This August, young fashionistas will have the opportunity to dress like Macy's star Jessica Simpson. Expanding on her current clothing collection, Jessica Simpson will now offer sportswear to the junior consumer. With a more sophisticated feel, this collection offers pieces that are dressed up and ladylike, yet have a bit of funk and flair.

TOMMY GIRL - The Tommy Girl collection, which targets girls ages 12 - 18, features signature Hilfiger pieces such as Oxford shirts, polos and peacoats, all with a touch of fun and femininity. Sold on the juniors floors of Macy's, the collection will sit in a newly-designed shop environment reflecting the brand's preppy point of view and classically cool American heritage.

Macy's will energize your in-store experience with exciting events that will get kids ready to learn this back-to-school season:

READING IS FUNDAMENTAL- Macy's and Reading Is Fundamental (RIF) have joined together to launch Be Book Smart, RIF's largest customer-supported campaign held at Macy's stores nationwide. This effort, held at local Macy's stores during the back-to-school season, aims to raise money for local RIF programs and to provide reading resources to underserved children in an effort to raise awareness and support for children's literacy.