Rocky Brands achieves outstanding results in Q2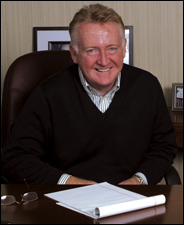 Rocky Brands Inc announced financial results for its second quarter ended June 30, 2011. Second quarter 2011 net income improved to $2.3 million or $0.30 per diluted share versus net income of $0.5 million, or $0.08 per diluted share in the year ago period. Excluding one-time charges of $0.6 million, net of tax, associated with the early repayment of a portion of the Company's senior term loan, second quarter 2010 net income was $1.1 million, or $0.17 per diluted share.

The earnings per share improvement was attained even with 933,000, or 14.2% more weighted average common shares outstanding as a result of the Company's follow-on common stock offering in May 2010. Gross margin improved 480 basis points to 39.4% compared to 34.6% last year. Net sales were $52.3 million for the second quarter versus net sales of $55.2 million in the second quarter of 2010, due to reduced sales under military contracts.

David Sharp, President and Chief Executive Officer, commented, "We are very pleased to report our eighth consecutive quarter of improved profitability on a year-over-year basis. The increase in our bottom line over the past 24 months has primarily been achieved through increased operating efficiencies, higher gross margins and more recently reduction in interest expense. As a result of our stronger balance sheet and the restructuring of our retail division behind us, we are positioned to drive future earnings gains through top-line growth in our wholesale and retail segments. We continue to be confident that our portfolio of brands has the potential to expand into other categories and new markets internationally and we are pursuing strategies to capitalize on these opportunities. We will also look to take further advantage of our internal manufacturing capabilities to improve in-stock positions on popular styles, increase our speed to market, and reduce costs."

Net sales for the second quarter were $52.3 million compared to $55.2 million a year ago. Wholesale sales for the second quarter increased 6.0% to $40.8 million compared to $38.5 million for the same period in 2010. Retail sales for the second quarter were $10.9 million compared to $11.0 million for the same period last year. Military segment sales for the second quarter decreased $5.1 million to $0.6 million compared to $5.7 million in the same period in 2010.

Gross margin in the second quarter of 2011 was $20.6 million, or 39.4% of sales compared to $19.1 million, or 34.6% for the same period last year. The 480 basis point improvement in gross margin as a percentage of sales was primarily attributable to the decrease in sales in our military segment which carry lower gross margins than our retail and wholesale segments coupled with higher average selling prices. In addition, we benefited from a 290 basis point increase in our wholesale segment and a 250 basis point increase in our retail segment driven by higher average selling prices and improved manufacturing efficiencies.