Spring 2012 line of REI-brand gear at Outdoor Retailer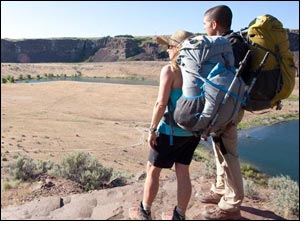 REI (Recreational Equipment Inc), a national outdoor gear and clothing retailer, unveils its spring 2012 line of exclusive REI-brand gear and apparel, during the Outdoor Retailer Summer Market tradeshow. As a trusted outdoor brand, REI continues to inspire people of all ages to have fun experiences while recreating outdoors.

Available in REI stores starting in January 2012, the new product and apparel offerings for spring are designed for camping, hiking, backpacking, urban and fitness-led lifestyles.

Notable highlights for the season include REI's expansion of its popular Technical Trail Collection, featuring durable, lightweight and comfortable gear and apparel designed for people who like to hike farther and faster. Additions to the collection for spring include new Flash 62 and Flash 52 packs, Quarter Dome tents, premium down sleeping bags and outerwear including the Dunraven Jacket, Kimtah Jacket and Pants with eVent fabric.

"Our Technical Trail Collection is focused on exceptional attention to detail and is designed for maximum comfort, durability and enjoyment on the trail," says Lee Fromson, vice president of REI Gear & Apparel. "Our gear and apparel will keep up with our active customers on the trail."

Technical Trail Gear

Combining lightweight design with loads of support and organization, REI's men's 62-liter and women's, 52-liter Flash backpacks are equipped with an all-new design for the next multi-day adventure. Each is built on a tubular aluminum perimeter frame that saves weight, yet is stronger than the stay-and-frame sheet builds that many are made of. The flash packs are available in three pack sizes (small, medium, large) and feature an ultra-light torso-fit adjustment system to allow for customization and comfort.

REI has refreshed its Quarter Dome Tent series and unveils the completely redesigned T1 tent's architecture, giving solo backpackers more length and overall volume. Additionally, all Quarter

Dome tents (T1, T2, T3, T2 Plus and T3 Plus) use new, lighter weight material, and include perimeter panels to help keep drafts and windblown debris from entering the mesh tent body. All Quarter Dome tents also feature vestibules outside each door and REI's Tension Truss architecture to add interior volume to decrease the total number of pole sections, making the new designs ultra-livable.

Technical Trail Apparel

Made with a hybrid nylon-shell/soft-shell construction, REI's new Dunraven jacket is developed for warmth, breathability and wind protection. The jacket's four-way-stretch panels in the shoulders and arms give a soft-shell-like agility and boost mobility. The highly breathable and windproof jacket helps hikers travel light while being prepared for a wide range of conditions.

Ideal for spring backpacking, REI's Kimtah rainwear feature eVent's waterproof and highly breathable fabric that lets sweat out without letting rain in. The jacket includes an adjustable brimmed storm hood and cover zippers to deflect rain and help contents stay dry. REI also introduces the Kimtah pants that feature ankle zips to let pants slide over footwear.