10th Anniversary of CURVENV Las Vegas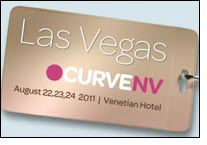 CURVENV Las Vegas August 22, 23, 24 2011 will open its doors at The Venetian Hotel in just a few days.This upcoming session is a special one for many reasons, first being the 10th Anniversary of CURVENV Las Vegas. As an important milestone, we would like to thank the CURVE brands that have supported us from day one when CURVE was just a project: Chris Arlotta, Fauve, Freya, Fantasie, Hanky Panky, Hanro, Lavit, Le Mystère, Marie Jo, Prima Donna, Mary Green, Montelle, Only Hearts, P.Jamas, Panache, Pluto, Rago, Sassybax, Simply Charming, and Wacoal.

Although the show has quadrupled in size to date, it has kept among its many partners, brands, retailers and press a special community spirit. This connection is cherished across the entire intimate apparel industry – a unique community within itself that addresses the final consumer with products that solve needs, making women and men feel comfortable and ultimately confident.

Beginning in August 2010, this intimate apparel community has been joined by the unique and evolving swimwear community. As a natural "relative", consumers' swimwear requirements are similar to those of intimate apparel: service at retail level, impeccable fit and comfort, and beauty with the right style.

Out of the 247 designer brands that you will discover at CURVENV Las Vegas for Spring/Summer 2012, 106 will unveil their new swimwear and resortwear collections – our largest offering to date. Now an important year-round concept, swimwear and resortwear brands are providing service to retailers with monthly deliveries that constantly refresh the store assortment for the "frequent traveler" consumer. The impressive offering of designer swimwear and resortwear at CURVENV Las Vegas this season includes: Agatha Ruiz de la Prada, ANK by Mirla Sabino, Antigel Swim, Bamboo Island, Bandita Couture, Be Creative, BECCA by Rebecca Virtue, Betsey Johnson Swim, Body Glove, Caffé Swimwear, Captiva, Carioca Collection, Carmen Marc Valvo, Christina, Cia.Maritima, Chio di Stefania, Clube Bossa, Coco Contours, Coco Rave, Coco Reef, D'Amore Swim, Daniela Corte, Dhufish, diNeila Brazil, DKNY Swim, Emobi Australian Swimwear, Fantasizer, Flora Bella, Gold Saturn, GoldenFish Swimwear, Happy Endingz Eco-Swimwear, I Love My Life, Jo de Mer, Jordan Taylor, Juicy Couture Swim, Kechika, Koral, Kore Swim, L'Acquavit, Le Doux, Le Soleil, Le Soleil Bébé, Letarte, Liliana Esquivia, Limonada, Lisa Riedt, Liza + Tara, Lucky Brand, Maaji, Made by Dawn, MagicSuit, Marc by Marc Jacobs Swim, Maria del Carmen, Marie Meili, Michael Kors, Milly Cabana, MiracleSuit, Natori Swim, Petite Letarte, Phax, PilyQ, Point Conception, Saga Swimwear, Saha, Seafolly, Silhouette Solution, Skye, Sorella Swim, Suit Yourself Bikinis, Syrup Swimwear, T.H.E. "Life" Swimwear, Topanaga by T.H.E., Terra Christa, Touché, ViX, Zeki.

We are pleased to announce that INVISTA, maker of Xtra Life LYCRA fiber, is this season's exclusive presenting sponsor of the now industry-famous So Curve So Swim Fashion Show. Taking place on Monday, August 22nd at 7 p.m. at the Crazy Horse Paris MGM Grand, the exclusive event will feature the Spring/Summer 2012 collections of 45 of the top swimwear brands in the industry, many of which feature Xtra Life LYCRA fiber. Swimwear with Xtra Life LYCRA fiber provides a beautiful long-lasting fit, resistance to suntan lotion and body oils, and provides resistance to chlorine up to ten times more than ordinary spandex, keeping swimwear fitting like new longer.