FITS Socks bags FUN BOB Award at Outdoor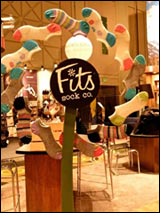 FITS Socks Co., the maker of the best FITting socks available, was awarded the FUN BOB Award: Best of Booths at the August Outdoor Retailer Show. Each Summer the Crew of SNEWS reports on the best booths: the most clever, most environmental, best merchandising and the like. This summer FITS was awarded for FUN!

FITS launched their new women's collection with a blooming display! The New "No Show" women's socks were cleverly introduced as flower pedals on a giant six-foot by three-foot animated flower display. This way each new sock with their complementing color palate had a pedal to rest on and show off.

The inspiration behind the award winning design came form brand manager, Wood Talkington; Wood is modest about his genius, but knows well the value of standing out, saying, "New socks pop up all the time."

According to Talkington, "The team at Fits is just having a real good time and has incredible chemistry which can't help but generate creative ideas." "This includes an engaging sock flower to introduce their new ladies' collection, mannequin leg lamps which display ski socks and the warm pendant lighting on corner fixtures. The warmth of the booth exterior and interior had this writer wanting to hang out and well, just play!" SNEWS News.

Not only are FITS the most creative brand, Crescent Sock Co., makers of the FITS Brand, is the oldest operating hosiery mill in the U.S., founded in 1902. The family-owned company has always been committed to its vision of making the best sock possible and protecting the jobs of their 160 employees.

All FITS socks are constructed from two-ply, compact-spun, ultra-fine Merino Wool with a micron count of 18.5 microns (the next level is cashmere), providing the ultimate blend of softness and durability. Their F3 Technology delivers a unique form FIT thanks to a deep heel pocket, specialized toe seam, and contoured leg - which keeps FITS socks firmly in place. This means no more bunching, hot spots, or friction, regardless of whether you are hiking, running, camping, biking or playing active sports.

Below is a run down of our active styles for both men and women: hiking and camping, running, backpacking and angling:

Women's Light Active No Show: FITS Active socks provide the perfect amount of cushioning and support to make even the longest run enjoyable. Merino Wool promises to keep your feet comfortable year-round. Features: Lower than our usual low- (no show height), cushioned in heel and toe, accent colors, stripes and design. Also available in an ultra-light - no cushioning anywhere (totally flat-knit) ideal for endurance sports. Image- shown on the flower pedal display.

Women's Casual Crew and Knee-High: FITS Casual socks bring everything you love about FITS to your everyday, busy life! To-do lists, activities, and the daily grind may wear you down, but your feet will be looking and feeling better than ever. Features: Crew - lower than our usual crew - almost a mini-crew height. Perfect "ladies crew" height, cushioned in heel and toe only (both heights), colors, stripes and designs.