Sustainable swimwear from Ecoswim by Aquagreen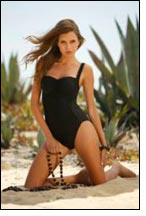 ECO SWIM BY AQUA GREEN is a new brand of women's sustainable swimwear utilizing innovative technology to help customers reduce their carbon footprint in the sand. The company is the world's leading manufacturer of sustainable swimwear, and this family-owned, American business is driving innovations to lessen the environmental impact of their goods while creating fashionable, comfortable swimwear that is just as high quality, if not higher, than their conventional counterparts. "Putting people and sustainability first is the cornerstone of our business," says Alex Waldman of ECO SWIM BY AQUA GREEN.

Every year, more than 14 billion pounds of trash end up in oceans and waterways. "The beaches are unlike the beaches of my great-grandparents," says Waldman. Both on the shore and in the furthest reaches of the sea, bits of plastic float around and wash up onshore, and the plastic, being made from petroleum, increases our collective carbon footprint.

"We want the world to be a better place for future generations," says Waldman. "As a fourth generation family business, we hope that beaches of the future will be as clean for our great-grandchildren as they were for our great-grandparents. So we're doing our part to reduce our carbon footprint in the sand."

ECO SWIM BY AQUA GREEN's Innovative Technology
Until very recently, making bathing suits required the use of new, virgin materials. But thanks to innovations in textile technology, ECO SWIM BY AQUA GREEN is able to manufacture swimsuits from reclaimed plastic water bottles, plastic bags, and nylon fishing nets, all of which are materials that take thousands of years to break down in landfills and which cause death to marine life when they end up in oceans and waterways.

In fact, ECO SWIM BY AQUA GREEN utilizes recycled materials not just in fabric, but also in elastics, hangtags, labels, and zippers. ECO SWIM BY AQUA GREEN is the first to bring these innovative technologies to the swimwear market.

Wherever possible, ECO SWIM BY AQUA GREEN is also using innovative natural materials instead of the conventional, petroleum-based alternatives. The company's bra cups, for instance, are made from Eco Cell foam, which is made from plant oils. "Using natural materials reduces both carbon dioxide emissions and total energy demand," says Waldman. Drawstrings are also made from organic cotton, and elastic is made from Dry Natural Rubber (DNR) in a facility that is less than a 30-minute drive from the factory that makes ECO SWIM BY AQUA GREEN in Pennsylvania.

ECO SWIM BY AQUA GREEN's innovations are not limited to the products themselves. In fact, some of the greatest energy and resource savings are made through their dedication to US-based manufacturing. Manufacturing in the USA reduces fossil fuel usage by 96.9% compared to manufacturing in Asia. Furthermore, the swimsuit as well as the plastic bags used to protect the products during shipping are all 100% recyclable. The company is also developing a new hanger that is both recyclable and made from recyclable materials.