Fashion chain Bershka opens eco-efficient store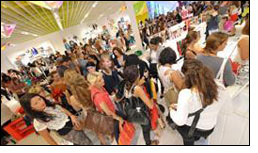 Fashion chain Bershka begins welcoming customers in Germany with the opening of its first store in Berlin. The new Bershka, which spans two floors and lures shoppers with an imposing façade, is located on Tauentzienstraße, one of the busiest retail destinations in Berlin's city centre. The shop, with a retail floor area of more than 1,500 m2, is one of the largest Bershka stores in the world.

Bershka wanted its first German store to embody the retailer's concern for the environment. Within the framework of the "Sustainable Inditex 2011-2015" environmental plan, store-level initiatives are one of the Group's key projects. The goal is to implement exacting standards for energy conservation, waste reduction and sustainability at all of the Group's new stores and in the renovation of existing stores. The company is committed to ensuring that 100% of its stores are eco-efficient by 2020, enabling it to reduce CO2 emissions by 30% by 2020.

Within this context, the first Bershka in Germany will seek LEED certification in the platinum category, the highest possible. LEED, a sustainable architecture certification scheme, is considered the most exacting rating system worldwide. A platinum LEED rating certifies that a store's design and construction were carried out in accordance with the highest standards for all sustainability issues assessed by the rating programme. Several of the Inditex Group retailers' most emblematic stores have received LEED certification, including Zara locations on Rome's Via del Corso, Athens' Korai Square and Barcelona's Portal de l'Angel and a Pull&Bear on Madrid's Gran Vía.

The Berlin store's most noteworthy sustainability features include automated control of heating and cooling systems, intelligent lighting systems which reduce wattage strength outside of business hours, generalised use of LED bulbs, use of FSC-certified wood products and oxo-biodegradable plastic bags.

Bershka, the Inditex Group's fashion chain for young people, opened its first outlets in 1998. A rapid international expansion has given it a retail footprint of more than 750 stores in 56 countries. So far in 2011 alone, it has debuted in Germany, South Korea, Japan, Indonesia, Malaysia and Morocco.

Store Concept
The Berlin establishment's design scheme showcases the latest Bershka store image, which aims to strengthen the brand and uses colour coding to clearly distinguish between different store areas. Neon yellow, the most eye-catching feature on the stunning façade, also plays a prominent role inside the store, punctuating the space to highlight the brand's youthful and cutting-edge style. The establishment is designed to make a memorable visual impression on shoppers. This look is complemented by the music, lighting and furnishings which characterise Bershka outlets, creating a shopping experience in tune with our young customers' interests.

Inditex in Germany
Bershka's debut in Germany follows openings by Zara, Massimo Dutti and Zara Home stores since Inditex first ventured into Germany in 1999. Zara Home also launched in Germany in 2011, with a shop on Frankfurt's busiest shopping street. Inditex now operates 74 stores in Germany in prime retail locations in more than 40 cities.