Strong foundations deliver a solid result, Myer boss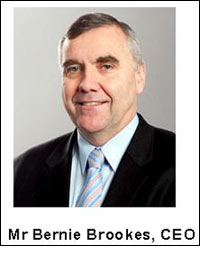 Myer Holdings Limited announced full year result for 2011.

Bernie Brookes, Chief Executive Officer commented on the results:
"To deliver an NPAT result of $162.7 million in this challenging trading environment is a credit to the strong management team and contribution of our 13,000 team members.

Challenging retail environment
"In this context, I am pleased with the resilience of Myer's performance on a number of levels. The significant capital investment that we have made since 2006 has established strong foundations that enabled us to manage our business through these difficult trading conditions. Our Myer Exclusive Brands strategy, improved sourcing, optimised promotional activity, and investment in CCTV to reduce shrinkage, have combined to generate an improved operating gross profit margin. In particular, our merchandise system, new point-of-sale (POS) system and a significantly improved supply chain helped us to manage our inventory during the year. We continued with our disciplined focus on costs across the business.

"Throughout 2011, we experienced unprecedented challenging retail conditions. The tough trading conditions experienced from November 2010, exacerbated by the floods in Queensland and Victoria, continued into the second half.

"The consumer continues to be reluctant to spend in the face of a number of increased cost of living pressures, the imminent imposition of new taxes, uncertainty surrounding interest rates and an increased propensity to save. During the second half of the year, domestic and global political and economic uncertainties as well as rising unemployment further impacted consumer confidence.

Operating highlights
"The opening of the world-class Myer Melbourne store was a highlight during the year and the store continues to gain momentum in sales. Our new stores at Top Ryde and Robina continue to be profitable and we are looking forward to the expected opening of Mackay in October 2011 and Townsville in May 2012. During the year we refurbished our stores in Canberra, Garden City and Charlestown.

"In March 2011, we purchased a 65 percent stake in sass & bide, one of Australia's most successful and respected women's fashion brands. Myer has exclusive department store rights to distribute this iconic brand and we have successfully rolled it out into 30 of our stores. In addition to the growth that we expect from the sass & bide sales in our stores, we also stand to benefit from the expansion of its standalone store network, and domestic and international wholesale businesses.

"With ongoing support from our strong supplier base, we continued to strengthen our merchandise offer with the addition of a significant number of new brands to our portfolio during 2011, including the prestigious Australian designer brands Arthur Galan AG, Simona and Fleur Wood. The establishment of our Global Sourcing Offices in Shanghai and Hong Kongduring the year will support the growth of our Myer Exclusive Brands and further develop our direct sourcing capabilities.