Emme & Amoena promote Comfort+ based lingerie range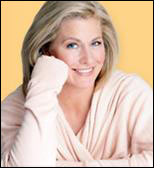 At Fashion Week, products that combine beauty, function and "perfect fit" are sure show-stoppers. Amoena, the global leader in breast care product design and manufacturing, offers full-cup women one such show stopper with Amoena Mia and announces that it has achieved another perfect fit. Amoena has partnered with the American supermodel, TV personality, mom and author Emme to promote the Amoena Mia lingerie collection. Together, Emme and Amoena will celebrate healthy living and feminine style that spans all sizes.

"Emme caught our attention because of not only her iconic fashion status, but also the incredible work that she is doing to promote positive self image among women and girls. She encompasses everything we stand for as a brand," says Phillip Sporidis, President, Amoena USA.

Amoena has built its reputation as the industry leader because it understands a woman's needs and develops products that support the mind, body and soul of women worldwide. Emme is recognized globally as an advocate for positive body image and self-esteem. Through the partnership, they are sending a message to full-cup women—celebrate your curves and accentuate them with the bra collection offering support, comfort, unmatched style and perfect fit.

What's truly revolutionary about the collection is that Amoena Mia also responds to body temperature. Amoena incorporated its proprietary Comfort+ technology into each bra style. The temperature-equalizing material (placed in the center, frames and slings) absorbs excess body heat during a rise in temperature, reducing heat build-up where women tend to perspire most. Amoena originally developed its Comfort+ technology for its post-breast surgery products and has received wide acclaim for its application to products for all women.

Amoena's partnership with the supermodel comes on the heels of Emme launching EmmeNation—a new, multi-platform community created from Emme's professional and personal experiences. Emme designed the community to tap into a unique, current cultural and business opportunity—to encourage wholeness in a woman's typically stressed and segmented life through events, digital channels and other platforms.

"There is an incredible amount of synergy between the missions of Amoena and EmmeNation. I hope to awaken the magnificence inherent in every woman with EmmeNation, and Amoena celebrates that with the quality of its products," Emme says. "The construction and sophisticated style of the Amoena Mia collection is unmatched. It's obvious that the company understands what a woman truly needs and desires from her bra, as well as a trusted brand."

Available in a size range from band sizes 32-48 and up to a J cup (in certain styles), Amoena Mia is a uniquely sophisticated bra line. Each style helps accentuate a woman's curves, creating the ultimate silhouette. Accents like delicate galloon lace and finished embroidery create an elegantly sexy look, which typically is hard to find in larger cup sizes.