Kohl's to create 4,000 new jobs in challenging time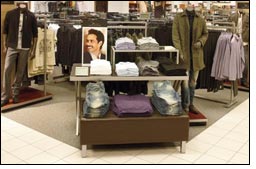 Kohl's Department Stores marks the grand opening of 30 new stores, bringing approximately 4,000 new jobs across 20 states.

"We are pleased to be in a position to create thousands of jobs, as Kohl's continues to focus on growing market share in a challenging economy," said Kevin Mansell, Kohl's chairman, president and chief executive officer. "We continue to bring customers innovative new stores where they can enjoy quality national and exclusive brands at exceptional values.

This fall we launched the exclusive Jennifer Lopez and Marc Anthony collections available at all stores. To keep the customer experience fresh and exciting, we have invested in our existing store base by adding innovative features and remodeling approximately 100 stores this year, an 18 percent increase from 2010."

Growth, Expansion and Innovation
2011 is another year of growth for the company as Kohl's opens 30 stores in 20 states – Alabama, California, Florida, Georgia, Idaho, Indiana, Iowa, Maryland, Massachusetts, Montana, New York, North Carolina, Ohio, Oklahoma, Pennsylvania, South Carolina, Tennessee, Texas, Virginia and Wyoming. Kohl's now operates 1,127 stores in 49 states. The company also invested in its current store base by adding innovative features and remodeling approximately 100 stores this year, an 18 percent increase from 2010.

In addition, all new stores opening this fall feature innovative store designs and new enhancements to increase comfort and convenience for shoppers. Some of these features include updated check-out stations, upgraded fitting rooms throughout the store, including fitting room lounges in Misses and Juniors, a customer service area relocated to the front of the store in most locations, in-store e-commerce kiosks and electronic signage located throughout the store.

To further drive growth, Kohl's also remains focused on the successful small store concept, which offers greater real estate flexibility and provides a platform to open up more stores faster, while still offering the same quality exclusive and national brands, value and convenience that shoppers have enjoyed for years.

A retail leader in environmentally responsible green building design and operation, Kohl's has 111 stores nationwide built utilizing a prototype that received Leadership in Energy and Environmental Design (LEED) certification at the Silver level from the U.S. Green Building Council. In fact, 18 of the new stores Kohl's is opening have been built to LEED guidelines, a set of criteria which guide best practices for the design, construction and operation for high-performance green buildings.

Characteristics of Kohl's LEED certified stores include: Cool White ENERGY STAR-rated TPO roofs that reduce each building's energy demand; water-efficient landscaping and plumbing; use of regionally sourced building materials; careful construction waste management and a centralized energy management system that helps monitor thermal comfort and ensure optimal energy efficiency throughout the store.