Disney offers top costume choices for Halloween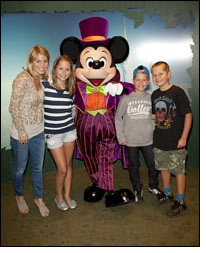 Adults and kids won't have to wish upon a star to find this year's hottest Halloween costumes when they head to their local Disney Store or shop at Disney Store. According to the National Retail Federation's yearly top costume survey, Disney Store has the most popular styles, including princesses, Spider-Man and pirate costumes.

Also a top choice for celebrities and their kids in 2011, Disney Store costumes have been spotted on the kids of Molly Ringwald, from the ABC Family show The Secret Life of the American Teenager; Joey Lawrence of ABC Family's Melissa & Joey; actress Candace Cameron; actress Salma Hayek; and award-winning singer Christina Aguilera, but every kid will feel special when dressed in a high-quality, stylish Disney Store costume for Halloween.

"When it comes to costumes, princess costumes have been the favorite among girls for years," said National Retail Federation President and CEO Matthew Shay. "From bright and colorful princess and fairy options to traditional favorites like pirates and superheroes, Halloween lets kids of all ages take part in the fun and festivity of the holiday."

New this year, the elaborate Limited Edition Rapunzel role play costume will bring sweet smiles to the faces of the 2,000 girls who are lucky enough to get one of these authentic designs. Boys will live out adventures dressed as favorite superheroes such as Spider-Man and Captain America or the fearless pirate Jack Sparrow and space captain Buzz Lightyear.

"We are so proud to be a top choice for Halloween year after year," said Molly Adams, senior vice president of Disney Store North America. "At Disney Store we pride ourselves on making costumes that are created to last and made with the highest quality materials to provide endless years of role playing."

At a recent event in the Santa Monica Place Disney Store, celebrities and their kids shopped for their favorite Disney costumes to get ready for a fun Halloween day.

Girls Costumes
On October 2, 2011, Disney will officially welcome Rapunzel as the 10th Disney Princess character at a high profile, star-studded celebration at Kensington Palace in London, UK. Little princesses from across the globe will watch Rapunzel be welcomed into the Disney Princess royal court by Ariel, Aurora, Belle, Cinderella, Jasmine, Mulan, Pocahontas, Snow White and Tiana.

To mark the occasion, Disney Store is celebrating Disney Princess by offering all 10 princess costumes and unique accessories inspired by their iconic gowns and dresses. Each Disney Princess character has a unique story that empowers girls to imagine and live their very own fairy tales, and each girl can find her favorite princess costume at Disney Store this Halloween.

Like Rapunzel in Tangled, your little princess can live her dreams while wearing the new Limited Edition Rapunzel Role Play costume. This dress mirrors Rapunzel's dress in Tangled and is marked by rich violet colors, delicate flower trim and a shimmering skirt to help girls get ready for an adventure. To complete this look, girls can add the accompanying 3-foot-long wig and crown (sold separately).