ZOOM by Fatex - resounding success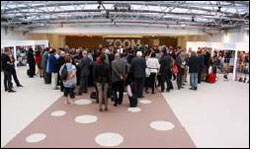 There was a brisk business atmosphere with high-calibre visitors at the 7th ZOOM by Fatex, the show dedicated to fashion manufacturing – mens, womens and childrens ready-to-wear, accessories and suppliers within easy reach. The show's decision to focus on speed and quality was clearly in tune with the market and with contractors' needs, reflected in the 3.5% increase in visitor numbers. There was a large international turnout, representing 55% of the total, while the number of French houses rose by 7%.

The top 5 visitor countries were from Europe, led by the UK, Italy, Germany, Spain and Belgium, followed by the Netherlands and the USA.

For the time being, the impact of the recession seems to be that contractors are seeking higher quality, more diverse sourcing and suppliers within easy reach.

The visitors
Visitors came from across the entire fashion sector – buyers from luxury houses, designers, chain stores and retail brands, proving that the show needs to continue diversifying and to offer different grades of quality to appeal to all market segments. Visitors' interests were as follows: 50% came for womenswear, 34% for menswear and 16% for childrenswear. Of these, 20% of visitors were seeking leather manufacturers and 15% lingerie and swimwear.

Our visitors appreciated the exhibitors advanced expertise (they were on the lookout for top-quality service and finished products), the growth of the accessories and leather goods sectors, the enhanced quality of the products, and innovation (ethical fibres, for example) as well as knitted fabrics, leather and knitwear. Increasingly they are seeking companies able to integrate all the sourcing stages, from the fabrics offer to delivery logistics, even for small quantities. A challenge that is sometimes difficult for the manufacturers supplying the luxury market with quality craftsmanship.

Exhibitors
Meanwhile, the exhibitors appreciated the diversification of the show's offer which helped foster positive competition. First-time exhibitors in particular enjoyed a great success, indicating the start of a real diversification in sourcing, with a stronger French and Portuguese presence, for example. Many exhibitors were delighted with the high turnout of contractors from Scandinavia (Norway, Sweden, Finland), the Netherlands and Switzerland, with very positive results.

Conference on 21 September
The Madagascar country focus was a winner
Madagascar's boom in the subcontracting and co-contracting sector reflects Europe's wish to diversify its supply sources. Madagascar, 4th biggest island in the world, represents 0.2% of European imports which benefit from customs exemption. The island is an intermediary stage between Euro-Mediterranean fast fashion and Asian mass production, and has a genuine and proven commitment to guaranteeing delivery, optimising investment and making the client's journey worth their while.