Topshop and Topman's first Canadian flagship in Toronto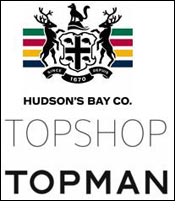 Arcadia owned TOPSHOP TOPMAN announced the highly-anticipated opening of its first Canadian flagship location; operating in partnership with The Bay. After months of consumer buzz and excitement, the opening now brings the UK-based brands' joint style authority and brave trend-setting approach to Toronto's The Bay Yorkdale on October 5, 2011.

TOPSHOP TOPMAN Yorkdale will boast the same selection of trend-driven pieces, specialized collaborations, and bespoke services that both brands have become internationally known for, and celebrated by style-conscious consumers. As British High-Street style champions, TOPSHOP TOPMAN remain a favourite amongst the fashion set, and TOPSHOP is the only fast fashion brand to regularly show collections at London Fashion Week, setting popular fashion trends each season.

The opening is a culmination of a year-long roll out met with huge consumer excitement, which began at the opening of Pop Up stores in downtown Toronto this summer, and continued a wave of style innovation westward with capsule collections launching in Vancouver and Calgary this fall.

Located at The Bay in the Yorkdale Shopping Centre, TOPSHOP TOPMAN design look and feel will evoke the spirit of London's iconic Oxford Circus store. Embracing just over 15,000 square feet of retail the store will span two floors interconnected with an in-store stairwell. Polished black glass portal entries, matt porcelain flooring and white neon signage, will bring the brands' signature look to this first Canadian location. Architectural details will include signature touches such as mannequin display windows, carnival neon shop lettering, graphic mural decals and black accents throughout the store.

"I am delighted to be launching the TOPSHOP and TOPMAN brands in Canada, and know that having chosen Bonnie and her team to be our partners, we have exciting times ahead," says Sir Philip Green, owner of Arcadia Group Ltd. "The Yorkdale store is a fantastic space and represents another step in our continued international growth, and I am confident that The Bay's customers will enjoy the retail experience and product."

"We are thrilled to bring TOPSHOP and TOPMAN'S inspiring style to Canadian consumers. The brands' fashion-forward spirit is the perfect match with the innovative and irreverent Canadian style sensibility. The opening of TOPSHOP and TOPMAN signifies a momentous occasion for The Bay as we celebrate our first flagship, bringing a UK fashion landmark home to Canadians," says Bonnie Brooks, President and CEO, The Bay. "We are excited to open the doors of the Yorkdale location to consumers on October 5th, and look forward to rolling out more flagships across Canada in the near future."

To kick-start the festivities, the first 10 shoppers in line will each receive a $200 TOPSHOP gift card. Plus, shoppers will also have an opportunity to capture their favourite style moments in a special, in-store photo booth, and will be treated to complimentary TOPSHOP make-overs, homemade treats and much, much more. One lucky consumer will be able to continue the celebration post-grand opening. During the grand opening day consumers will be encouraged to enter the TOPSHOP London Calling contest, for a chance to win two tickets to London, including flights and 3 night's accommodation, and 2 tickets to the Topshop Unique Show, and a pre-trip shopping spree!