Fila's fall campaign highlights women's inner confidence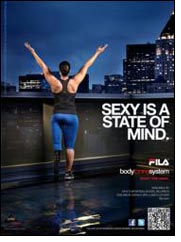 Fila USA unveiled the Fall 2011 Body Toning Collection ad campaign, which features six Real Women from across the United States wearing the expanded and highly anticipated fitness apparel line.

This fall campaign launches the second year of Fila's national marketing and advertising campaign in which non-professional models represent the company's popular Body Toning System fitness apparel collection. Due to overwhelming response and support for the brand's first Real Women campaign and efforts to portray everyday women who inspire and relate to Fila's core consumer, the company expanded the casting call to an online format allowing for submissions on a national scale.

The online casting of "non-professional models ages 25 – 50" resulted in entries from over 36 states. Applicants submitted either video or photo entries accompanied by a personal statement. Fila executives narrowed the entrants to 20 finalists. The original Real Women from last year's flagship campaign selected the five winners during a live web-stream. To enable Fila's Toning Facebook fan-base to have a voice in the selection process, Fila integrated a "People's Choice" sixth winner into the casting call selection.

The six winning Real Women in Fila's Fall 2011 campaign include a single-leg amputee social worker/fitness instructor, a New York City Police Officer, a soccer Olympic hopeful, a fitness blogger, an amateur tri-athlete and a new mother who has rediscovered fitness.

Leading up to the fall campaign launch, the six winners participated over the summer in a 6 week pre-campaign Facebook program with each guest hosting a week long public interaction on Fila's dedicated Body Toning Facebook page.

"It was extremely satisfying to see how women across the country were responding to our winners on Facebook," stated Jennifer Estabrook, Fila's EVP Business Operations. "Real women deserve attention and respect, from the way we design our products to the forums that we engage to help better understand the most personal of their needs. This is especially true when it comes to workout apparel that is integral to their pursuit of healthy living."

The six women selected for the campaign are:
At the age of 19, Laura Brumund was struck by a drunk driver, which resulted in the loss of her leg. She has overcome insurmountable odds to achieve personal and professional success. Laura is a mother, social worker, personal trainer, and an inspiration to others overcoming personal challenges. She is living proof that anything is possible.

Kristy Petrillo, is a 33 year-old Real Estate Owner/Agent in Blue Ridge, Georgia. After graduating from Clemson, her career started taking priority over fitness, so she decided to change her lifestyle. She participated in her first triathlon ten years ago and now races 10 events a season.

Qiana Martin is an international athlete, global soccer ambassador, and founder of Eat Soccer. Her mission is to introduce, inspire and encourage urban communities to participate in the game of soccer. She aspires to make the 2012 US National Soccer team.