Deflexion offers unique technology for active sports clothing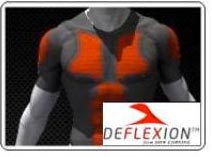 Deflexion technology from Dow Corning, a patent-pending silicone-based flexible protective textile, will be presented as a keynote case study at the Techtextil India Conference in Mumbai, on October 11-12, 2011.

Designed to offer a platform to companies looking to become involved or to increase their involvement in technical textile markets, the conference will highlight 12 different applications of technical textiles, nonwovens and technical applications.

The symposium will showcase leading international and national experts and will feature Deflexion technology as a keynote case study, "How to build (and maintain) a successful market niche," on Wednesday, October 12 at 10:00 a.m.

"Incorporating specially-formulated silicones, Deflexion materials are able to absorb and disperse the shock of an impact being transmitted through the body," said Dr. Liz Mallen, business development manager for Dow Corning, "The Deflexion technology offers Dow Corning a unique market niche to designers of active sport apparel by offering materials which are comfortable, flexible, breathable, and perform over a broad range of temperatures and when wet."

Dr. Mallen adds, "Designed to mold to the body and withstand the wear and tear of repeated use, Deflexion material delivers comfort and performance during sports and other activities where the body could potentially be exposed to impacts from falls, collisions and hits."

Deflexion technology has become a protective textile of choice for active sport apparel designers. It is currently featured in a back protector for skiers made by Scott Sports, in sailing gear made by marine apparel brand Henri Lloyd for use by competitive sailors and nautical enthusiasts, in vests made by RodeoTech for use by rodeo professionals who need freedom of movement and protection during rodeo competitions.

Deflexion technology has also been featured in Rukka motorcycle jackets, trousers and back protectors and most recently by Klim USA for use in motorsport professional jackets.

About Deflexion technology from Dow Corning:
Deflexion technology offers a range of impact-protection technologies that allow for the easy creation of high-performance protective apparel and equipment.

Deflexion technology focuses on providing comfort, enhanced fit, freedom of movement and, due to the unique stability of silicones, performance over a broad range of temperatures. Deflexion products are able to achieve a high level of performance when cold, hot and wet, while remaining comfortable to wear. Deflexion technology was selected as one of the most innovative fabrics of 2010 by Future Materials in their annual "FM 100" article, which ranks the year's most innovative materials. Deflexion technology was also selected by Design News as a finalist for its 2011 Golden Mousetrap Awards.