Super Retail to buy Rebel from Archer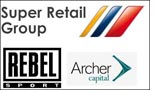 Super Retail Group announced that it has reached agreement with Archer Capital to acquire Rebel for a total consideration of $610 million. The acquisition is consistent with the Group's stated strategy of expanding into adjacent leisure retail businesses.

The acquisition will be partly funded through a fully underwritten 9 for 19 pro rata renounceable entitlement offer of new Super Retail ordinary shares ("New Shares") at an offer price of $5.34 per New Share ("Offer Price") to raise approximately $334 million (the "Entitlement Offer"). The retail component of the Entitlement Offer will contain an entitlements trading element where eligible retail shareholders will be able to trade their entitlements under the Entitlement Offer on the ASX.

Rebel is Australia's number one sporting goods and apparel retailer with a market leading brand. The acquisition comprises 90 Rebel Sport stores, 36 Amart stores and 2 Performance Sports stores and accelerates the Group's strategic objective of establishing itself as the leading retailer of automotive and leisure products in the Australian market.

The Group will finance the acquisition through:

• the underwritten $334 million Entitlement Offer; and
• an increase in the Group's existing debt facilities

The acquisition is expected to deliver mid single digit EPS accretion in FY12 (pre-synergies) and is currently expected to complete on 31 October 2011.

Mr Peter Birtles, Chief Executive Officer of the Group, said, "The acquisition represents a fantastic opportunity for the Group to leverage its retail and supply expertise in a highly complementary business and to build Rebel's position as the national leader in sporting goods retailing."

There is a natural strategic fit between the Super Retail and Rebel businesses. Rebel will strengthen the Group's existing leisure and apparel retail offering, while the Group can provide the required expertise to accelerate Rebel's growth and store roll-out profile and to optimise Rebel's existing operations.

There is a significant potential opportunity to grow Rebel from 128 stores today to a total of 185 stores over the medium term, across both the Rebel and Amart banners. In addition, the Group anticipates synergistic benefits will be realised through optimisation of the procurement, logistics, supply chain, marketing, IT and administrative functions.

"Both Super Retail and Rebel are focused on providing customers with a comprehensive product offering and excellent customer service, delivered by passionate team members." Mr Peter Birtles said.

In 2011 Financial Year, Rebel delivered:

•$603 million in revenue; and
•$77 million in EBITDA.

The acquisition has the capacity to create significant shareholder value through the delivery of pre-tax synergies that are estimated by Super Retail management to be in the order of $10 million on an annualised basis,of which approximately 50% are anticipated to be achieved in FY12.