VF reports record third quarter results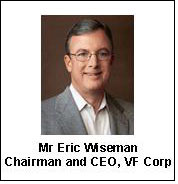 VF Corporation, a global leader in branded lifestyle apparel, announced record results for the third quarter of 2011. All per share amounts are presented on a diluted basis.

Third Quarter Results Summary
Revenues rose 23% to $2,750.1 million from $2,232.4 million in 2010. The acquisition of The Timberland Company, which was completed on September 13, added $163.6 million to revenues. Excluding Timberland, organic revenue growth in the quarter was 16%. All VF coalitions achieved strong revenue gains: Outdoor & Action Sports revenues, which now include the Timberland and Smartwool brands, grew 37%; Jeanswear revenues rose 8%; Imagewear revenues increased 14%; Sportswear revenues grew 18%; and Contemporary Brands revenues were up 11%.

Gross margin declined, as anticipated, to 45.3% from 46.5% in the 2010 period, reflecting the impact of higher product costs. Operating income of $430.1 million included a net benefit from the Timberland acquisition of $13.5 million, which included acquisition-related expenses of $26.6 million. Operating margin was 15.6% compared with 15.9% in the 2010 period, with acquisition-related expenses negatively impacting operating margin by approximately 100 basis points. On an organic basis, the third quarter operating margin increased to 16.1% from 15.9%.

Net income grew 24% to $300.7 million from $242.8 million, while earnings per share increased 21% to $2.69 from $2.22. Adjusted earnings per share were $2.87, an increase of 29% over 2010 levels. The Timberland acquisition was accretive to adjusted earnings by $.25 per share in the quarter. On an organic basis, earnings per share grew 18% to $2.62. Foreign currency translation benefitted earnings by $.10 per share in the quarter.

Nine Months Results Summary
Revenues increased 17% to $6,549.0 million from $5,576.4 million in 2010, with strong growth in every coalition. The Timberland acquisition accounted for three percentage points, or $163.6 million, of the revenue growth in the period.

Net income and earnings per share each increased by 22%, to $630.8 million and $5.69. Adjusted earnings per share were $5.89, an increase of 26% over 2010 levels. Earnings per share in the period also benefitted by $.11 in special items reported in the first quarter, $.07 from a gain on a facility closure reflected in second quarter earnings, and $.14 due to foreign currency translation.

"The strength of VF's diversified brand portfolio has never been more evident," said EricWiseman, Chairman and Chief Executive Officer. "These results - in this environment - clearly demonstrate that VF has the right brands and strategies for strong and sustainable long-term growth. Our businesses continue to post healthy and very profitable organic growth, and the acquisition of Timberland further strengthens our portfolio with the addition of two outstanding outdoor brands."