Three steps by CPSC for a safe Halloween celebration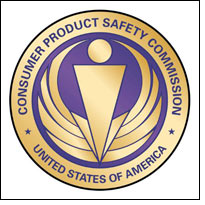 From a fall resulting in a dislocated shoulder, to an open flame resulting in second degree burns, each year CPSC receives reports of injuries involving Halloween-related costumes, decor, and lighting. These incidents are preventable. Using CPSC's three-step safety check, consumers can ensure that their fright night fun is not haunted by Halloween injuries.

"Too often Halloween make believe has resulted in real life injury," said CPSC Chairman Inez Tenenbaum. "Fortunately, prevention is simple. Choose flameless candles, flame-retardant materials, and well-fitting costumes to reduce the risk of injury this Halloween."

With CPSC's quick and easy Halloween safety check and just five minutes of inspection, consumers can avoid problems that previously have plagued the trick-or-treat trail. This safety check will help consumers to: (1) prevent fires and burns, (2) ensure that kids can see and be seen, and (3) outfit kids for safety.

Halloween-related incidents can involve a number of hazards, including burns from flammable costumes that come into contact with open flames—particularly candles used to illuminate jack-o-lanterns; falls and abrasions from ill-fitting costumes, shoes, and accessories; and fires caused by burning candles left unattended, near combustible decorations or knocked over by kids and pets.

The federal Flammable Fabrics Act (FFA) requires costumes sold at retail to be flame-resistant. To prevent costume-related burns, CPSC enforces this requirement and recalls costumes and other products that violate the FFA. When making a costume at home, CPSC encourages consumers to use fabrics that inherently are flame resistant, such as nylon and polyester.

According to the National Fire Protection Association (NFPA), Halloween ranks among the top 5 days of the year for candle-related fires. To prevent candle fires, CPSC encourages consumers never to leave a burning candle unattended. Battery-operated flameless candles and other flameless lighting are safe alternatives to traditional candles.

Unique jack o' lanterns and creatively-carved pumpkins are a new popular trend. Read CPSC's OnSafety blog on pumpkin-carving injuries and how to prevent them.

Additional safety tips to help make this year's holiday safe:
Decorations
• Keep candles and jack-o-lanterns away from landings and doorsteps, where costumes could brush against the flame.
• Remove obstacles from lawns, steps, and porches when expecting trick-or-treaters.
• When indoors, keep candles and jack-o-lanterns away from curtains, decorations, and other items that could ignite. Do not leave burning candles unattended.
• Whether indoors or outside, use only decorative light strands that have been tested for safety by a recognized testing laboratory. Check each set of lights, new or old, for broken or cracked sockets, frayed or bare wires, or loose connections. Discard damaged sets.
• Don't overload extension cords.