PPR buys Italian mens master tailor Brioni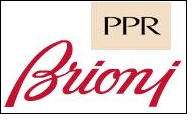 PPR announces the signing of an agreement with Brioni's shareholders to acquire 100% of Brioni capital. The transaction is subject to the approval of the competition authorities and should be finalized at the beginning of 2012.

Brioni, whose 2010 revenue reached €170 million, is one of the world's most reputable men's fashion houses, owning to its exceptional and unique sartorial know-how. It is the top-rated men's fashion brand in the United States (Luxury Brand Status Index, 2011).

Brioni is a profitable and growing business with its own sartorial workshops, the largest of which is located in Penne in the Abruzzo region. It has 1,800 employees and is distributed in 74 boutiques, 32 of which are directly owned stores, as well as through an extensive network of points of sale around the world.

By acquiring this menswear-only brand, PPR is increasing its portfolio of luxury brands in the strong growth high-end men's fashion segment. Brioni has significant intrinsic growth potential and PPR will enable it to accelerate its expansion and boost its profitability, notably through a wider product range and geographic expansion in strong growth markets.

François-Henri Pinault, Chairman and CEO of PPR, declared: "Brioni boasts top quality craftsmanship and is synonymous with Italian masculine elegance. It is the reference in ready-to-wear and bespoke menswear and I am delighted that it is joining our magnificent portfolio of luxury brands.

We have great ambitions for this fashion house. We will give it access to our expertise and know-how, so that it can write a new page in its history while continuing to preserve its identity."

Francesco Pesci, CEO of Brioni, declared: "Joining PPR group is a great opportunity for Brioni as we will benefit from the group's power. It is the ideal partner to lead our company towards a new stage in its development while enabling it to preserve its unique know-how and remain faithful to its values of timeless elegance and refinement."

Unique know-how
Brioni was founded in 1945 by Nazareno Fonticoli and Gaetano Saviani. It is one of the world's most famous men's tailoring houses and the symbol of classical and timeless Italian elegance. Innovation is a core part of Brioni's identity: it was the first fashion house to organize a fashion show for men and to introduce a touch of color into men's wardrobes.

Its range covers all categories of men's attire as well as fragrances, accessories and leather goods.

Brioni boasts unequalled sartorial know-how in custom-wear based on a tradition of "made in Italy" craftsmanship that is carefully preserved in its sartorial workshops, the largest of which is located in Penne in the Abruzzo region of Italy. In 1985, Brioni created the Nazareno Fonticoli Scuola Superiore di Sartoria tailoring school to perpetuate its know-how. The brand is also a partner of London's Royal College of Art.