PUMA completes first Environmental Profit and Loss Account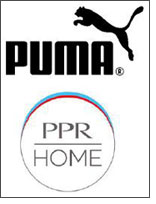 Within the context of publishing a worldwide unprecedented Environmental Profit and Loss Account (EP&L), the Sportlifestyle company PUMA and PPR HOME, the PPR Group's sustainability initiative, released, that the environmental impact for the key areas of greenhouse gas emissions (GHG), water use, land use, air pollution and waste, generated through the operations and supply chain of PUMA is valued at € 145 million in 2010.

Furthermore, in acknowledging the PUMA EP&L as an innovative sustainability approach, the PPR Group, PUMA's majority shareholder, announced that this groundbreaking economic valuation methodology for a company's environmental impacts will be implemented across its Luxury and Sport & Lifestyle brands by 2015.

After publishing an economic valuation of € 94 million of GHG emissions and water consumption in May this year, PUMA has now finalised its 2010 E P&L by adding € 51 million caused by land use change for the production of raw materials, air pollution and waste along its value chain. Only € 8 million of the € 145 million total derive from PUMA's core operations such as offices, warehouses, stores and logistics while the remaining € 137 million fall upon PUMA?s supply chain. These costs, which will not affect PUMA's net earnings, will serve as an initial metric for the company when aiming to mitigate the footprint of PUMA's operations and all supply chain levels.

"The unprecedented PUMA Environmental Profit and Loss Account has been indispensible for us to realize the immense value of nature's services that are currently being taken for granted but without which companies could not sustain themselves," said Jochen Zeitz, Executive Chairman of PUMA and Chief Sustainability Officer of PPR.

"At PPR HOME, we view the PUMA EP&L as an essential tool to help drive PPR?s sustainability development across its Group of brands because analysing a company?s environmental impact through an E P&L and understanding where environmental measures are necessary will not only help conserve the benefits of ecosystem services but also ensure the longevity of our businesses. The results of the PUMA E P&L underpin the urgency for a paradigm shift in the way we all currently do business and I have been pleased to also see that the release of PUMA?s first results has generated widespread interest among governments, corporations, NGOs and academics."

The PUMA E P&L and the associated methodology were developed with the support of PricewaterhouseCoopers LLP and Trucost PLC, using recognised ecological and economic techniques and building on a large volume of work in the fields of environmental and natural resource economics. The valuation of the overall results shows:

• PUMA?s supply chain is responsible for 94% or € 137 million of its total environmental impact.
• Over half (57% or € 83 million) of all environmental impacts are associated with the production of raw materials (including leather,cotton and rubber) in Tier 4 of PUMA?s supply chain.