Exceed's founder happy with third quarter performance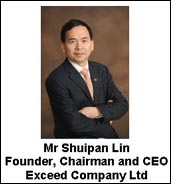 Exceed Company Ltd. the owner and operator of "Xidelong" brand - one of the leading domestic sportswear brands in China, released its unaudited financial results for the third quarter ended September 30, 2011.

Shuipan Lin, Exceed's founder, Chairman and CEO, commented, "We are pleased to report strong results for the third quarter with revenues exceeding our guidance. Continued healthy demand for our products, coupled with our effective marketing campaigns resulted in sales increases across our product categories.

Our performance was also bolstered by the continuing expansion of our distribution network, especially in third-tier and select second tier-cities, where market demand for our lifestyle brand products remains strong. With a focus on fashionable and functional products geared towards value-conscious shoppers, we remain well positioned to compete in the market for sportswear in China.

"Our outlook for the remainder of 2011 remains positive, and we are continuing to move forward with the execution of our new operational plan announced earlier this year. This includes the construction of new staff quarters and the expansion of our internal production capacity over the mid-term in response to the changing dynamics within the domestic sportswear market. Looking ahead, we remain focused on delivering increasing value to our shareholders, namely through the execution of our US$10 million share buyback program currently in progress, and by maintaining our focus on transparency and disclosure.

As such, our independent auditor Crowe Horwath LLP conducted an audit on our cash and bank balances during the third quarter, their report is attached. We believe our healthy financial position and our continuing strong operational performance further bolster our position as a leading domestic sportswear brand operator in China."

Revenue. Revenue increased by 28.0%, from RMB832.4 million for the third quarter 2010 to RMB1,065.7 million (US$167.1 million) for the third quarter 2011. The increase in revenue was primarily driven by the increased demand for our products and the continuous expansion of the Xidelong retail network by our distributors in China.

The increase in the demand for our products was attributable to the continued success of our advertising and promotional campaign, the successful launch of new series of apparel and footwear products, and the overall economic growth in China. The number of Xidelong retail locations, which are operated by our distributors and authorized third party retailers, increased by 530, from 4,194 as of September 30, 2010 to 4,724 as of September 30, 2011.

Footwear. Footwear accounted for 47.8% of revenue for the third quarter 2011, and principally includes nine categories of footwear: running footwear, leisure footwear, basketball footwear, skateboarding footwear, canvas footwear, tennis footwear, outdoor footwear, vintage footwear and cross-training footwear.