Infinite possibilities with fluid silhouettes at H&M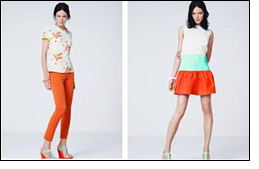 Tailored and fluid: these are the silhouettes that count at Hennes & Mauritz AB (H&M) this spring, with a mix of modern tailoring and romantic femininity that bring infinite possibilities for personal style. The sharp white suit is a key statement, softened with a jersey vest top underneath and worn with 50's style brogues.

For a softer shape, there are kimono-style draped jackets and wrap dresses, with wide-leg trousers anchoring the trend for light volume. Mix and match the pieces in a playful way to create an individual look, finished with accessories like bangles and sunglasses in brilliant white.

"I love the well dressed, grown up mood of the season that is still easy to wear and that can be styled in so many different ways. New fabrics play an important part this season and add something new to existing shapes," says H&M's head of design, Ann-Sofie Johansson

SILHOUETTE: Tailored and fluid
COLOURS: White and neutrals worn with fruit coloured accents like yellow, orange or apple green, alongside soft shades such as apricot and blue.

FABRICS: Cotton and jersey, silks, leather, organza, linen

DETAILS: Tailoring details and sartorial touches that emphasise the tomboy-ish look, contrasted with soft drapes, wraps and pleats which maximise the volume while keeping the shape.

KEY GARMENTS: White suit, a jersey vest, leather sleeveless jacket, shirtdress, draped kimono jacket, short quilted jacket, drape vests, wrap dress, wide trousers.

KEY ACCESSORIES: 50's style brogues or wooden-sole platforms, multiple bangles, leather necklaces, clutch bags, white sunglasses

WORK MEETS PLAY FOR MEN AT Hennes & Mauritz AB (H&M) THIS SPRING
It's all about the modern mix for men at H&M this spring, with work and play merging to create a masculine wardrobe without boundaries. Colours and fabrics are crisp and optimistic, whether it be the new blues and khakis worn with bold stripes for a marina feel, or the vivid shades of yellow and orange that act as accents for the uptown meeting of business and leisure called "bleisure brights". Sports is a key influence, with functional parkas and anoraks as the essential outer layer, while tailoring introduces a sense of softness to its shape, with the smartest of suits having a looser feel for Spring.

"Men today are dressing in-between styles of street smart casuals and reworked and refined tailoring, with sportswear playing a key role. The silhouette is very important, mixing slim with volume and lean with cropped, while neutrals and blues are matched with strong accent colours to make a real statement," says Andreas Löwenstam, H&M's head menswear designer.

SILHOUETTE: Neat contrasts in-between fitted and relaxed.

COLOURS: Blues, khakis and neutrals, with vivid accents of yellow, orange and red.

FABRICS: crisp and washed cotton, with technical fabrics for a sporty outdoor feel; heavy knitsand soft jersey; tailoring in light wool, cotton and seersucker.