Sports brand Under Armour to outfit Tough Mudder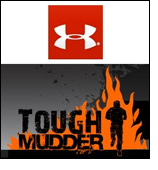 Tough Mudder and Under Armour announced a multi-year partnership that will start in January 2012. The global partnership designates Under Armour as the "Official Outfitter" the 35-event worldwide Tough Mudder series and title sponsor of events in London and Maryland. The Tough Mudder powered by Under Armour events will take place in London, May 12-13, and in Fall 2012 in Maryland.

As part of the partnership, Under Armour and Tough Mudder will design a new obstacle that will be incorporated into all the 2012 events. In addition, with the help of Under Armour's training specialists, Tough Mudder will develop a custom training program to prepare future participants for the unique rigors of the event. The program will be available through the Web sites and Facebook pages of each brand.

"Tough Mudder is excited to partner with Under Armour, a brand that is the epitome of 'tough,'" said Will Dean, CEO and Co-Founder of Tough Mudder LLC. "We believe this is a perfect partnership between the two brands, aligning the ultimate performance apparel with one of the most recognized, award-winning endurance series in the world."

Co-branded Under Armour-developed products will be available beginning next month. The products will be geared to perform through the elements and physical challenges that Tough Mudder participants face. The co-branded apparel and in-line footwear, apparel and accessories will be available on ua's website. All participants will receive a co-branded T-shirt, and finishers will be awarded a new headband with Under Armour and Tough Mudder logos.

"It is Under Armour's mission to make all athletes better, and Tough Mudder attracts tough athletes from all walks of life," said Matt Mirchin, Senior Vice President, Global Sports Marketing, Under Armour. "As training and performance leaders, we look forward to helping participants maximize their results through our innovative apparel, footwear and training programs."

Founded in 2010, Tough Mudder is the nation's fastest-growing and most-recognized endurance series. In 2011, Tough Mudder hosted 14 events, and this will expand to 35 in 2012 in the U.S., U.K., Canada and Australia. Unlike other traditional endurance events or mud runs, Tough Mudder events are constructed by British Special Forces to offer a 10-12-mile trail-running experience like no other. Located outside major metropolitan cities, courses are based on rugged terrain, featuring steep inclines and water hazards, highlighted by 18-25 military-style obstacles testing one's fitness, strength, stamina, mental grit, teamwork and toughness.

With a unique crossover appeal for high-performing endurance athletes, fitness enthusiasts, risk-taking adrenaline junkies and conservative commoners alike, Tough Mudder events were created to test individual limits in a one-day challenge that showcases the core characteristics of will, intensity, camaraderie and teamwork. Tough Mudder events are not timed and are won by all those capable of completing the course.