Heartland Bridge invests in Legends and Heroes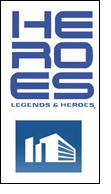 Heartland Bridge Capital Inc., a private equity firm focused on developing a portfolio of unique investments in emerging technologies, announced that it has entered into a Letter of Intent with, and has taken an equity stake through its initial investment into, Legends & Heroes, Inc.

Legends & Heroes, Inc. is the owner of Skineez, and the developer and marketer of Skineez Skincarewear, a unique and exciting brand of doctor-approved cosmetotextile garments. Cosmetotextiles are fabrics equipped with patented microcapsules that impart skin care benefits, combat aging, and promote overall health and wellness.

Operating in the space where pharmaceutical and beauty care products are converging, Skineez is tapping into a $5 billion US market. Skineez has a revolutionary technology for treating fabrics with microcapsules that contain cosmetic ingredients that form a balanced combination of anti-cellulite ingredients (retinol, caffeine, red algae extract). Legends & Heroes, headquartered in Newton, MA, is entering a period of major market expansion and welcomed the investment from Heartland, which it perceived as sharing in one of its core values: "Doing Good!"

Terms of the agreement and investment structure are included in an SEC 8K filing of December 7, 2011.

James F. Groelinger, CEO of Heartland Bridge Capital, commented: "We are very excited to be able to make this investment in L&H at a time that supports the impending commercial emergence of the Skineez product line. The technical aspects of the product fit well with the overall objectives of Heartland's Life Sciences strategic focus, and represent an opportunity to participate in a new market segment in which we expect to see rapidly accelerating growth."

Michelle Moran, L&H's CEO, said: "We were introduced to Heartland and immediately felt the potential for a synergistic relationship. Faced with the challenge of addressing the explosive market opportunities that are opening up for us, the ability to structure a transaction that provided immediate cash, with a second phase of additional cash and Heartland securities, was attractive."

"I found Heartland to be insightful and enjoyable to work with, as well as an attractive investment vehicle in its own right. I'm looking forward to closing on the second part of our arrangement and to having a fruitful long-term relationship."

One of the most unique features of Skineez Skincarewear is its longevity. The special fabric is treated with the microcapsules during the manufacturing process. When the garment is worn, the body's heat and the friction from wearing the garment slowly release the patented embedded cosmetic ingredients onto the skin.

However, unlike similar garments that have been on the market in Europe for some years, the Skincarewear garment can be replenished after washing up to 10 times with the SKINEEZ slimming spray. This greatly enhances the user experience andeconomics.