Fort Myers announces incentives for Chico's FAS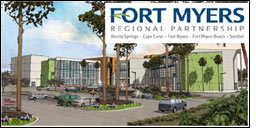 The Fort Myers Regional Partnership, Lee County's Economic Development Office, announced that the county and State of Florida have approved financial incentives totaling $3,260,000 for Chico's FAS Inc to support the expansion of its corporate headquarters in Fort Myers, Florida.

The approval of this project fosters the creation of an additional 150 net new jobs and salaries totaling approximately $11.3 million over the next three years.

As part of the expansion project, the state also awarded Chico's with incentives from the Qualified Target Industry (QTI) Fund, which, if used in full, would value $1,050,000 in tax rebates over the next three years, of which 20 percent will be provided by the Lee County Job Opportunity Program (LCJOP).

Additionally, Chico's will receive a total of $2,000,000 from the Quick Action Closing Fund from the State of Florida and matched by Lee County.

"We welcome this announcement, which shows that Florida is succeeding in generating more jobs in strengthening its economy," said Governor Rick Scott. "I am pleased Chico's recognizes that Florida's strong business climate and our qualified and ready workforce are suitable to meet its business needs."

"Chico's decision to expand in Florida validates the state's success in maintaining a business climate that enables the growth of headquarters operations," said Gray Swoope, president and CEO of Enterprise Florida Inc. "This sector is one of our prime targets for economic development, so, this announcement certainly is great news for Florida."

Florida Quick Response Training (QRT) Program incentives were also awarded totaling $210,000 by the State Training Grant.

Chico's FAS, Inc. is a specialty retailer of private branded, sophisticated, casual-to-dressy clothing, intimates, complementary accessories, and other non-clothing gift items.

Chico's which has made its home in SW FL since its founding in 1983 as a small boutique selling Mexican folk art and cotton sweaters on Sanibel Island in Florida.

Chico's is currently based in Fort Myers and employs approximately 1,250 at its corporate headquarters, located at 11215 Metro Parkway. Since 2002, Chico's has added more than 850 positions at the Fort Myers headquarters and continues to add additional headcount to support its growth as a national specialty retailer.

In addition, the company has invested more than $200 million at its headquarters location over the past few years.

"Chico's is expanding its corporate headquarters facility in Fort Myers in order to further support company growth. This expansion could involve an initial investment of $25 million during an 18-month period and an additional investment of between $6 to 10 million during fiscal year ending 2013 and 2014 total," said Kent Kleeberger, EVP/Chief Operating Officer for Chico's.

"The expansion allows Chico's FAS to add 150 new jobs and retain 1,250 existing jobs and remain right here in Fort Myers. In addition, the expansion and creation of new jobs has potential for additional tax revenue to the State of Florida and Lee County, to increase spending in local area retail establishments and restaurants, and to create indirect jobs in the area through the company's vendors and contractors increased business with Chico's," continued Kleeberger.