If it's about apparel fit…'Consistency is king'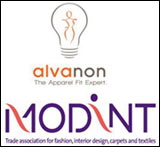 Brands and retailers who apply the latest 3D body shape data and consistent fit strategies to their product development practices are reaping the rewards of repeat business, reduced returns, higher prices and full-price sell-throughs.

This was the clear message given by speakers to an international audience of fashion executives at MODINT's fit & sizing seminar organised in collaboration with apparel fit specialist Alvanon.

Held at MODINT's headquarters at Zeist in the Netherlands, speakers from Alvanon, MODINT and NIKE, united in urging delegates to use 3D shape research data analysis to define the shape of their target consumer and then apply this data to developing their grade rules, pattern blocks and fit forms. Speakers also insisted that once a fit standard is established it must be communicated, executed and maintained consistently across the supply chain.

The seminar opened with a welcome from Matthijs Crietee, deputy director fashion at MODINT, followed by Nienke Steen, consultant quality manager & corporate responsibility, MODINT who set the scene by demonstrating the positive impact a long term apparel fit strategy can have on profitability.

Her presentation appropriately entitled 'Pro Fit!' highlighted the importance of using the right 3D body shape data to identify and define a brand's target consumer shape.

She recommended delegates consult Nedscan – a recent Dutch body shape survey, Alvanon's 300,000 shape database or Assyst Bullmer's online global shape database – iSize. She went on to advise delegates to move away from linear grading because: "different parts of the body do not grow bigger or smaller in set ratios."

She also insisted: "It is fundamental to create the right pattern blocks for your brand fit; it is not your supplier that should do this. Your supplier will be pleased to receive clear and consistent information on sizing."

Absolutely agreed Ed Gribbin, president of apparel fit expert Alvanon: "…consistency is king" when it comes to implementing a successful fit strategy. In the first of three presentations Ed Gribbin gave delegates an overview of how fashion companies are performing in the difficult economic climate. While most struggle there are those who continue to post impressive growth and profit figures.

Common to those who are succeeding: "They all seem to have a strong commitment to fit, have a clear idea of who their target customer is and develop processes that enable them to develop and execute fit consistently."

These successful brands he says are using 3D body shape research to refine, update and drive their product development, grade rules, fit forms and pattern blocks.

Furthermore they are using global data to refine their fits to enter new global markets. As a result: "They are successfully increasing their market share and competitive advantage in their domestic markets and abroad."

A casein point is global sports and leisure wear brand Nike. Monique Broeke, sr tech design at NIKE explained: "We revisited Nike's fit standards in a bid to drive our growth and profitability through a 'fit excellence' strategy." Recognising that body shape has changed significantly over the past 50 years Nike consulted Alvanon and MODINT to analyse body shape data of Nike's target adult and child consumers in the US, Europe and Asia.