Another strong performance by Burberry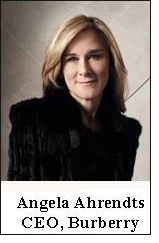 Burberry Group plc, the global luxury company, reports on trading for the three months to 31 December 2011.

Highlights:

• Total revenue of £574m, up 21% underlying

Retail revenue of £417m, up 23% underlying
• Comparable store sales growth of 13%
• Flagship markets including London, Paris, Beijing and Hong Kong outperformed
• Core outerwear and large leather goods again drove half of growth
• Knitwear, men's accessories and tailoring, fragrance and watches grew strongly

Wholesale revenue of £130m, up 15% underlying
• Q3 deliveries benefited from improved supply chain and monthly flow of product
• Mid single-digit percentage underlying wholesale revenue growth still expected in H2 as brand rationalisation continues

Licensing revenue of £27m, up 12% underlying
• Driven by success of Burberry Body fragrance launch

Further strategic and operational progress
• Six mainline stores opened including Paris and São Paulo
• Extended luxury leadership position in social media, with over 10m Facebook fans and 10m views on YouTube

Angela Ahrendts, Chief Executive Officer, commented:

"Burberry has delivered another strong performance, with a 21% increase in revenue in this important third quarter. Our investment in flagship markets and digital technology has enabled our global teams to continue to drive customer engagement, enhance retail disciplines and improve operational effectiveness, further strengthening brand momentum.

Looking ahead, we remain focused on executing our proven core strategies to achieve long-term sustainable growth, while staying mindful of the challenging macro environment."

Retail sales, which contributed over 70% of group revenue in the third quarter, increased by 23% on an underlying basis (up 24% at reported FX). Comparable store sales grew by 13%, with the balance from new space.

Within comparable stores, mainline again outperformed, led by Greater China, the UK, France and Germany, with a robust outcome in the US. The travelling luxury consumer drove outperformance of flagship markets such as London, Paris, Hong Kong and Las Vegas. Comparable store growth in China continued at around 30%.

Key merchandising strategies underpinned growth in mainline retail. Core outerwear and large leather goods again delivered about half of the revenue increase which, together with the continued outperformance of Burberry London, led to further strong growth in average selling prices. Knitwear, men's accessories and tailoring, fragrance and watches were among the fastest growing categories.

During the third quarter, Burberry opened six mainline stores and closed four. New stores included the first flagship in Paris, a third store in Brazil in São Paulo and the fourth childrenswear store in the Middle East. Average retail selling space increased by 13% in the third quarter, with growth of between 13-14% now expected for the second half.