Jeanologia to show its ecological & efficient tech at GTE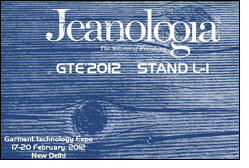 From 17th to 20th February, the Spanish company Jeanologia, highly specialized on finishing techniques for jeans, will be presenting its last technology for production and jean finishing design at Garment Technology Expo in New Delhi (India).

This time, the Spanish company will exhibit the technological steps forward taken in order to reach higher levels of ecology and efficiency.

More precisely, Jeanologia will show the textile Laser GFK Flexi that incorporates a complex optical system which allows a polarization control and works both horizontally and vertically, so able to laser mark jeans, shorts, skirts, jackets, t-shirts, and accessories. This functionality allows a better adaptation to manufacturers and designer's needs.

The system works with an automatic MD mannequin, on fix table or rotating table "Rotatex", peripheral units controlled by the "Easy Mark" software.

Likewise, the GFK Flexi incorporates the new UFS (Ultra-Fast Scan) technology providing a marking speed increase by a 20% approximately, whilst it reduces the energy consumption per garment marked.

Apart from the laser, Jeanologia will show also the G2 technology, an eco-washing machine that works with ozone and oxygen, and washes jeans and t-shirts without water or chemicals, providing the garments with a vintage finish.

This machine transforms air from the atmosphere into gases with the help of 2 generators. It has a cyclic process since, once the washing is done, the gases return to the atmosphere as fresh air, and with no impact for the environment.

Also, the new G2 technology allows 62% water saving per garment and also 85% saving in chemicals and 55% savings in production time.

The environmental benefits that this new initiative offers are just spectacular. Taking into account that the global jeans production per year is 5 billion units, each manufactured jean consumes a total amount of 70 liters of water, 1,5 kWh, and 150 grams of chemicals, meaning 420 million tons of water, 6 billion kW/h, and 900,000 tons of chemical products

If the whole textile industry used this new technology, it could be achieved a saving in water equal to the human water consumption in Paris during 2 years, and a saving in energy equal to the electricity consumption in Nepal. Chemicals consumption would also be reduced in 720,000 tons less.

Jeanologia is a Spanish company specialized in the Research and Development of new technologies for the washing, dyeing and finishing of textile garments, more precisely for jeans.

During the last years it has consolidated its position as global leader on the development of technologies for the denim world by developing innovative techniques that reduce the environmental impact, the energy consumption and that promote the workers and consumers health.

In this sense, Jeanologia has developed the first GFK textile laser which reproduces the wearing and the most elaborated breakages reducing the production time and increasing the accuracy and reproducibility for the sake of a more authentic look through low energy consumption.